About me
Hi, my name is Lindsay and I'm 34 years old. I live in Northumberland with my husband Ed, my 10 year old son Matthew, and my 2 year old son Ethan.
I worked within an Early Years setting for 5 years, followed on to be a Childminder for 2 years, before our youngest son came along. I hold a BA Honours Degree in Children & Young People, and strongly believe that young children flourish and learn through play! My passion of working with children has grew over the years, and having 2 active children of my own, we are always very busy exploring the outdoors and do lots of messy play in the house, which we love!
My plan originally was to take my studies further to become a Primary teacher, however , the reality of how much time away it would take from our family life just did not suit me! Joining Little Learners in April 2021 has been the best decision ever!
I began taking my youngest son to Little Learners sessions when he was 10 months old, and we absolutely loved it! He got stuck in to anything he could, and when I heard this franchise was for sale, I knew straight away this would be something I would love to do! I know both sons are going to love this new adventure, being involved in my job! The flexibility of choosing my own hours to suit my family is fantastic. I couldn't be more proud of owning Little Learners Northumberland, providing top quality sessions, for families to enjoy, whilst encouraging children to explore and learn through play!"
MEET THE TEAM:
I run events & messy play classes in Northumberland (you can sign up to my waitlist at the top of this page). There is myself who run the sessions, parties and events, along with Gemma, who is our wonderful, Saturday class leader.
Get in touch to find out more or check out my Facebook!
lindsay@littlelearnersuk.com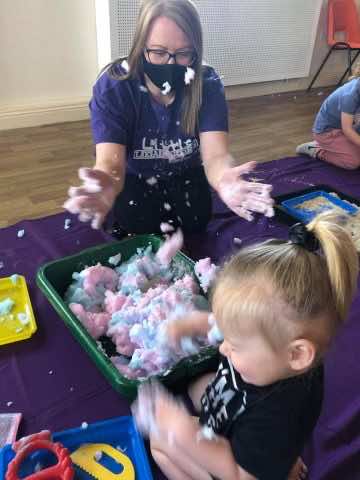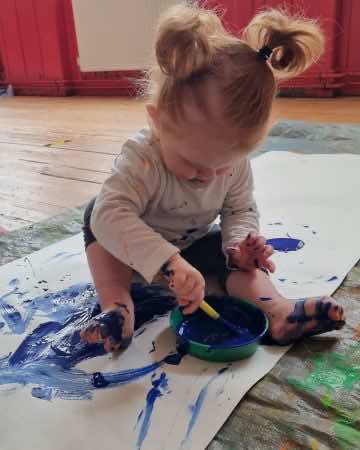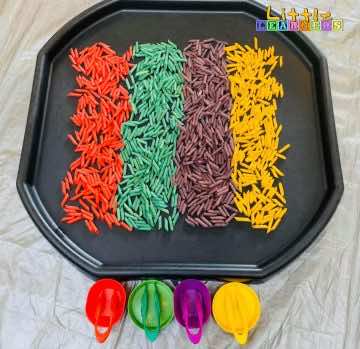 ---
Party Packages
We can throw a messy Birthday Party, Christening/Naming Day or any other celebration tailored to suit the interests of your child, such as Zoo or Dinosaur themed, Super Heroes, Unicorns, CBeebies- The possibilities are endless! The party room will typically be set up with (themed) messy trays, sensory play, painting, drawing stations and playdough. All you need to do is find a venue- I bring everything required, set up your messy party, then do the cleaning up!!
Prices start from £120 for up to 20 children, for 60 minutes, and can also include a 'cake smash' for an additional cost of £10, which includes full set up and clean up. Additional time can be added, along with additional children, for extra cost.
  We can also offer a home or garden party packages, which can be as messy as you want. I can do dry mess trays with drawing and play dough. Or leave the mess out and provide craft activities and play party games with the children.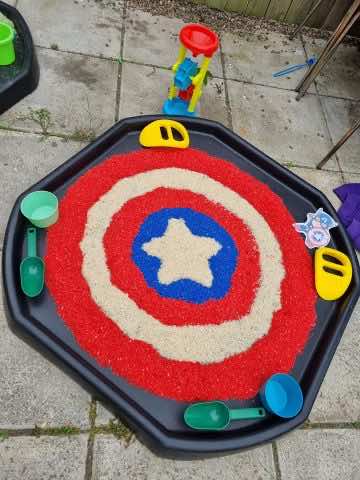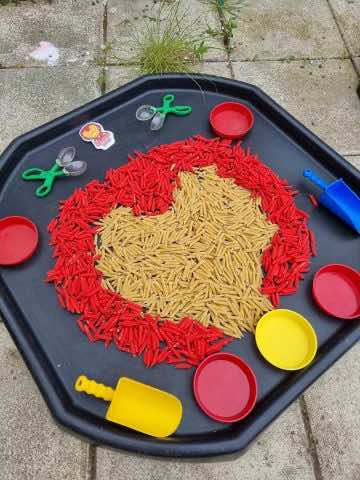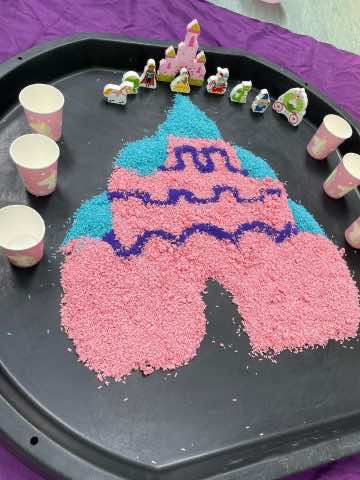 Email me for more information or to chat about your little one's big day: lindsay@littlelearnersuk.com
---
Reviews and Recommendations
Not only are the sessions so creative and super fun but the team, especially Lindsey, are amazing with the children. We booked Lindsey for our sons 3rd birthday party and it was fantastic. I mentioned a couple of ideas for our theme and Lindsey nailed it. He honestly had the best day
.Cheryl
*****
It Was Freya's first time at Little Learners today and she had the best time! Such a Relaxing atmosphere and Loads of things to explore, she absolutely loved the paint and foam! We Can't wait for the rest of the term. Thanks so much! Alison
*****
Fantastically run and the kids love getting messy. Paul
*****
We have been to a few classes now and have just booked the next term. My little girl absolutely loves messy play, there's always lots of different messy play trays and painting so she gets involved in everything giving her lots of different experiences with textures. Can't wait for our next session!  Samantha
*****
The best messy play class by far, my little one has come on leaps and bounds since starting with Lindsey in June at 7 months old! He's just about to turn 11 months and he absolutely loves getting stuck in and exploring as much as he can and he's so happy every session. Chloe
*****
Lindsey is absolutely amazing at what she does! Her classes are so good that I've booked her for my little ones 1st birthday party! Lindsey is so friendly and helpful. Megan
*****
The best messy play classes around!Everything is just amazing… can't wait for more classes
.Belinder
We have had 2 classes with Lindsey, Theadora Mae has loved both sessions. Especially trying to eat everything
Fully recommend booking, we are looking forward to our first birthday hey duggee themed messy play party too in August! Amy
"My little boy enjoyed today so much! Will definitely be back for more sessions, there was so much to do thank you! X" Charlotte
*****
"Lovely first day today, Jacob wasn't himself but definitely looking forward to the rest of the term 
 xxx" Sophie
*****
 For Messy Play Classes in Northumberland