About me
Hi I'm Georgia, I live in Cramlington with my partner Tom and 2 year old son Arlo.
Arlo and I started attending classes when he was 7 months old and I experienced first hand how
important
it is for babies and toddlers to
learn through play
.
Arlo has really brought out my passion for children's learning and development and I love being able to watch him grow and learn whilst having fun –  Little Learners provides the perfect environment for just that.
I am really excited and proud to be the owner of
Little Learners Northumberland
and aim to provide a warm, welcoming and supportive environment for
your children to learn and evolve
their fine and gross motor skills, alongside yourself.
Come and join in the messy fun and I look forward to meeting you at Messy Play classes in Northumberland.
Keep an eye on our Facebook & Instagram page for more info.
---

---
Inter-generational Classes
My Grandad suffers with Vascular Dementia & attends a Day Centre 3 times a week. He comes to life when I take Arlo to see him, this inspired me to contact the Day Centre and arrange a session. I feel so lucky to have the opportunity to take my Little Learners into the Care Home and provide the most heart warming sessions across the generations.
If you'd like to take part in a session like or you work within a Care Home and would like more information please email me at Georgia@littlelearnersuk.com
---
Party Packages
We can throw a messy Birthday Party, Christening/Naming Day or any other celebration tailored to suit the interests of your child, such as Zoo or Dinosaur themed, Super Heroes, Unicorns, CBeebies- The possibilities are endless! The party room will typically be set up with (themed) messy trays, sensory play, painting, drawing stations and playdough. All you need to do is find a venue- I bring everything required, set up your messy party, then do the cleaning up!!
Prices start from £90 for up to 15 children and can also include a 'cake smash' for an additional cost.
We can also offer a home party package which can be as messy as you want. I can do dry mess trays with drawing and play dough. Or leave the mess out and provide craft activities and play party games with the children.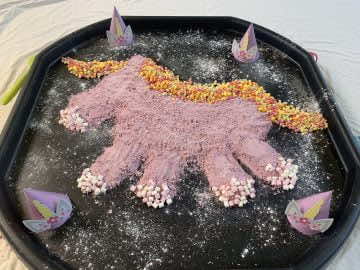 Email me for more information or to chat about your little one's big day: georgia@littlelearnersuk.com
---
Reviews and Recommendations
*****
"My little boy enjoyed today so much! Will definitely be back for more sessions, there was so much to do thank you! X" Charlotte
*****
"First session with my little boy who is 10 months and he loved it. Georgia has done an amazing job with all the different trays of messy play. Certainly kept everyone busy, can't wait for next week 
" Lauren
*****
"Lovely first day today, Jacob wasn't himself but definitely looking forward to the rest of the term 
 xxx" Sophie
*****
"Thanku Georgia for a fab class!! Freya had an amazing time at the Christmas event in Morpeth today!! She's been talking about it all afternoon and telling any1 who will listen. Looking forward to joining the new term in January!!" Adele
*****
"We love this class! My son loves getting messy and eating everything 😂 it's always well organised and a different theme every week. Georgia is fab with all the kids, would recommend this class to anyone." Claire
*****
"Couldn't recommend enough, Georgia is absolutely amazing with all the babies and parents. Such a friendly welcoming group." Emma
 For Messy Play Classes in Northumberland