Blog,Northumberland
08/09/2021
This Messy Play Tray could be the only way you get to enjoy the beach this summer? Are you looking for another idea to keep your little ones busy during the not so sunny days over the holidays? Are you missing the beach? Why not bring the beach to you? Here is a super fun, messy play tray idea, beach themed! Also, for those of you who are worried about your little ones always putting things in their mouth, this activity will leave you to be worry-free. All the items are edible too! YUM!
All you need is:
3 packs of Digestive Biscuits (other biscuits will also work)
Masher utensil
3 sachets of instant custard
Bowl, jug & access to hot water (adults only for this part please!)
Blue food colouring (not essential)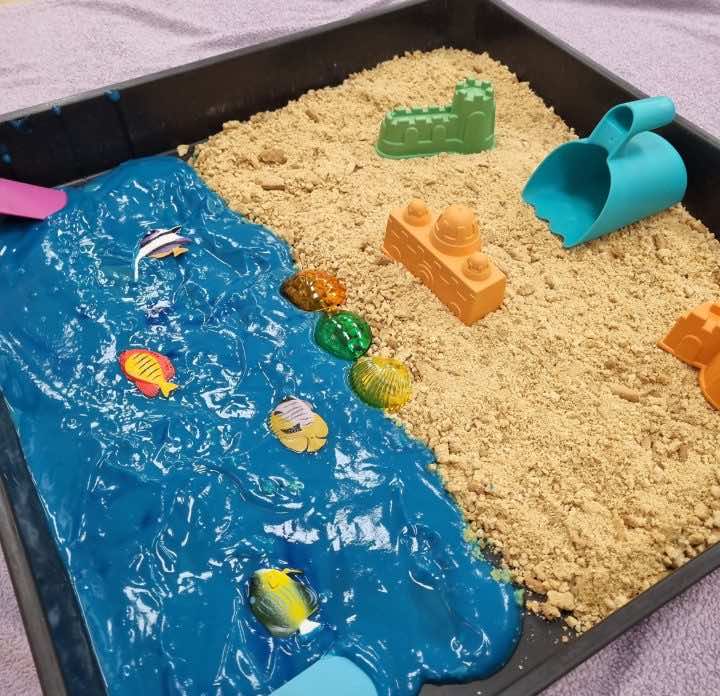 Here is how you can make your own beach themed Messy Play tray:
HERE ARE OUR INSTRUCTIONS TO CREATE A SUPER FUN BEACH, MESSY PLAY TRAY!
To create the sea, I used 3 sachets of instant custard (I used the smart-price brand from Asda, super cheap!). This part must be done by an adult! (Boiling water will be involved)
Following the instructions on the packet, I made up the custard, and kept this in a bowl.
Once this is cooled down, I then added a small amount of food colouring (this can be liquid or gel form), and stirred the colour into the custard.
To make the 'sand' area, I used 3 packs of digestive biscuits, and in a bowl i crushed them up using a masher (couple at a time, transferring them to another bowl once crushed). That is now your sand area done, how easy!
I then poured the coloured custard into a small tray at one side, and the crushed biscuit at the other side. I then had sand and water play!
You can get creative and add more fun by adding any kitchen utensils you can find, little pouring pots, spoons and tubs. This equipment would be fantastic for your child to explore, mark making and to practice their pouring and scooping skills. If you have any sand toys, bucket and spade, toy fish or boats, these would also be great to add into the play tray!
What are Fine Motor Skills?
Children use their Fine Motor Skills when they perform an activity that uses the smaller muscles in their hands. For example, during this activity, they are using these skills to pick up small objects. They can useutensils, scooping, filling, mark making and exploring in the tray using their fingers/hands.
Why are they so important?
We give our Little Learners a variety of different activities at each session which will help develop and strengthen their Fine Motor Skills. This leads them to our goal, which is mark-making and writing! Our Children need strong hand muscles to grasp and control a pencil once they reach school age. So our aim is to encourage children to use various tools and fine motor movements during play, to build upon their physical development to enable the skills as they grow.
Written by Lindsay Williamson – Little Learners Northumberland
Want us to do the hard work? Click here to find your nearest class!