Blog,Northumberland
07/10/2022
Being a mum of two and being a franchisee at Little Learners is perfect for my work/family life balance.
In April 2021, I made the decision to take over Little Learners Northumberland franchise, and it has been a fantastic decision! Coming out of lockdown, it was the perfect time to begin this new journey. I began by running classes, selling out to wonderful families, then additionally began hosting messy play birthday parties at weekends, which is an absolute blast!
I have met so many kind, loyal and fun families and I absolutely love watching the little ones grow and enjoy learning. For those who come back each term, it's been a pleasure to see the children flourish over the months. So many have become so much more confident and independent in class and I am so proud of each and every one of them.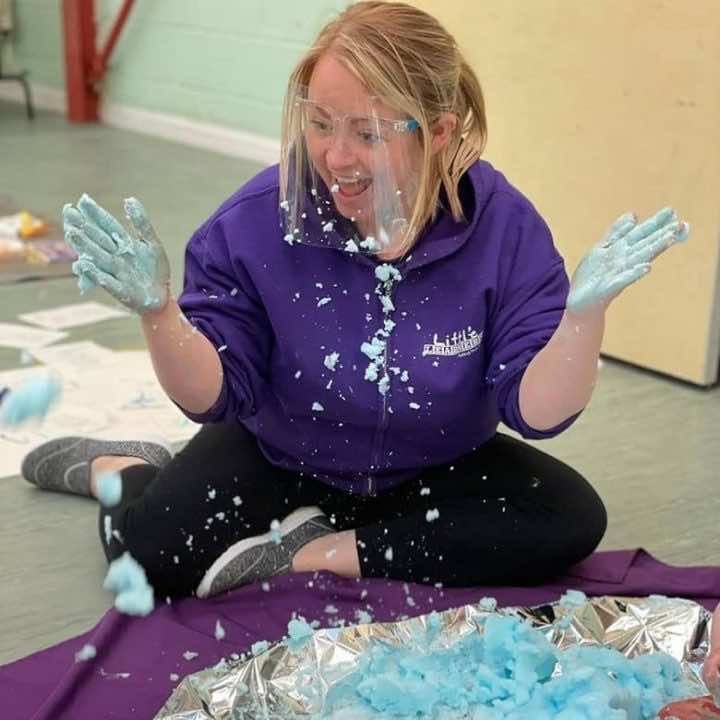 I love chatting to all the parents and carers who come along to class, growing bonds and friendships over the weeks and months – it really doesn't feel like 'work' when everyone makes it so much fun!…. well… until we are cleaning up all of the happy mess at the end! 😂
Although I have my own area in Northumberland, it has been so nice to have all the other amazing Little Learners franchisees from all over the UK helping me on my journey. We always support each other whenever needed, enjoying monthly catch ups on Zoom and staying in touch in between. We help each other with activity and business ideas or even just have a nice, friendly chat. They are a wonderful bunch, who work hard and do amazing trays and set ups. It is fantastic when we get together for the annual conference and festivals, making our 'work' even more fun! I was over the moon when I came away with THREE AWARDS from my first attendance at the Little Learners Annual Conference!
I have been privileged to work in collaboration with some amazing other franchises! We often work with Hartbeeps, which is such an exciting, fun collab together on events, as well as the wonderful Hooray Softplay, who provide us with their equipment regularly!
Running my classes is so much fun (yes, hard work at times with all the preparation, admin and clean up!), and it's working perfectly around my family life. As a franchisee at Little Leaners, you are able to choose your own hours, which means I am able to take my children to and from school and then work during the day in between! It's great!!
I love planning classes and parties, its so much fun, and even more so seeing all the happy smiles!
Lindsay x