Blog
08/08/2023
Little Learners is a messy and fun experience for little ones and recently I've tried a few new venues locally, with one being on my doorstep – the beach!
Having lived on Mersea Island for over 15 years, I'm well aware of the positive impact the fresh sea air can bring to people, so why not try a messy play session at the seaside? The weather recently has been changeable – rain one minute, glorious sunshine the next – impossible to prepare for. I crossed my fingers and hoped for the best. Luckily, when I arrived at the beach, it was dry so setup was straightforward. The wind picked up as the session progressed, but not enough to impact the fun!
For this first session, I chose the theme of colours and we looked at Archie the rainbow who makes lovely curved letters and numbers. I set up the following stations:
An orange pasta crab
A tray of blue couscous with blue props
Green playdough and cutters
Yellow play sand, diggers and tools
A colourful rice rainbow
Chalkboards and chalks
Coloured wooden blocks
Transport counters and bowls to sort into
Paint sprayers and a huge strip of paper (we had some paint pads too but the wind kept blowing them away!)
Cup and ball for hand-eye co-ordination practise
14 children and their grown ups joined me – we started by singing If You're Happy and You Know it and then went into our messy play – great fun!
The rain came along just at the end of the session, so we had a quick tidy and then handed out stickers before leaving. I then sat in the beach hut while the worst of it passed before tidying away. I had completed an environmental impact form for the council and was keen to ensure I left the beach exactly as I found it (all materials used were sustainable too).
We have another session on the 14th August (fully booked) and I'm really excited to share that I have just released another date – Monday 21st August 2-3pm – head to the website to get booked in as I'm expecting these spaces to go quickly too.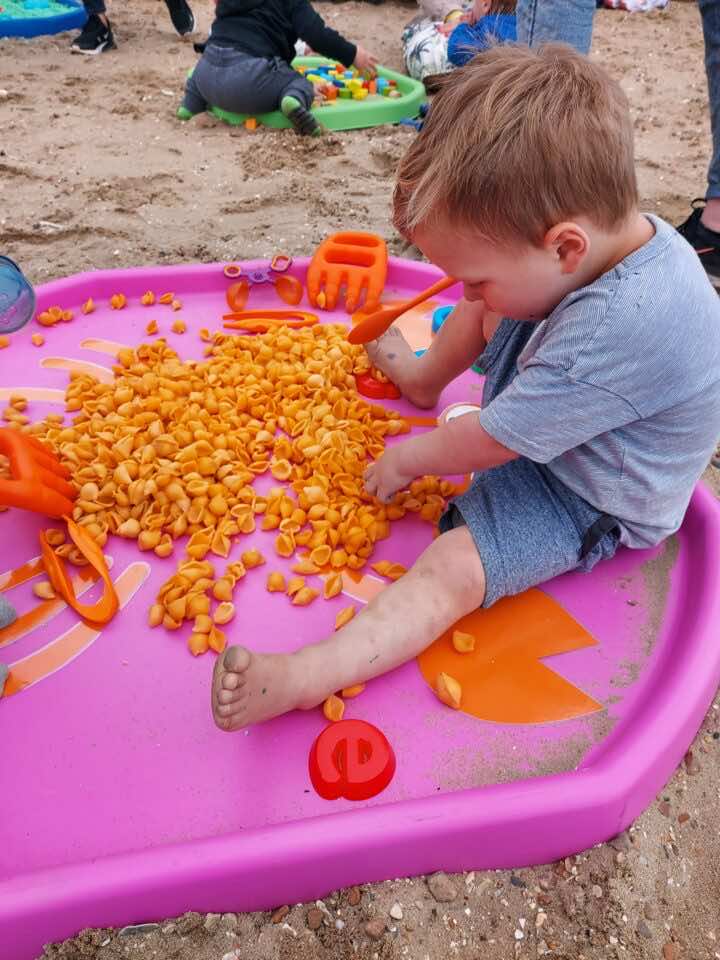 Thank you to all those that joined me – I'm looking forward to more messy beach fun!
Anita
Little Learners South Colchester