About me
Please vote for me and Little Learners in the following categories:
Most Loved Academic or Creative Activity / Franchisor with 20+ Leaders & Franchise Territory
 Most Loved Party Supplier, Provider or Entertainment
Most Loved Activity Leader or Business Manager (South East England, North England & Scotland)
 Most Loved Baby Activity / Franchise or License Territory
I need YOUR help to get to the finals – awards like this not only make me do a happy dance, they also help me grow my business. I'm so grateful for all the support you all give me – booking classes and parties, letting me be part of your child's life and all the fab memories I've made as a session leader. But voting for me, my fellow franchisees AND for Little Learners across all categories we are nominated in, is a huge help!
By doing this you're helping me to encourage more children to make their mark… THANK YOU SO MUCH!
About me
Hello, my name is Anita and I am excited to be bringing lots of messy play fun to South Colchester!  Living on West Mersea, I enjoy an active, outdoor life as well as spending as much time as I can with my 2 young nephews.  I have also been a Cub Leader for 6 years here on the island.
I am a qualified teacher with 19 years of experience and know the importance of supporting children to develop their fine and gross motor skills.  Little Learners does this in such a fun and engaging way and that is exactly why I chose to run my own business with them.  My role is to support you and your child as they begin their writing journey.  I really look forward to working together to see your child achieve.
Colchester Messy Play Classes
My sessions will teach your child to create the 4 main marks needed for writing through engaging in activities that include paint, spaghetti, gloop and more!  These award-winning sessions have all been devised by a qualified teacher and will help your child to make their mark.  As well as this, I aim to support parents and carers to build supportive friendships within the classes.  My intention is that you have as much fun as the children…!
Outreach
Schools and Nurseries
Please reach out to find out how I can support you to deliver mark making sessions that your children will love.  I can link these to your handwriting scheme if desired (schools).
Follow me on Facebook, Instagram and Twitter to be kept up to date with the latest classes and special events.
Parties
Little Learners parties are great fun! Our party packages combine all the exciting elements of our award winning mark making and messy play classes with a personalised birthday theme for your little one. Our 'cake smashes' are very popular for babies parties too.
The party room will typically be set up with (themed) messy trays, sensory play, painting and drawing stations, play dough and more.
Your party can be set up at a venue of your choice (including your garden!) and it would be my pleasure to work with you to come up with a personalised party plan for your little one.
Merchandise
I have t-shirts available to buy either at sessions (or message me prior and I can bring you one to your first session).  These are priced at £10.99 and are available in sized 6-12 months, 1-2 years and 3-4 years.  I can also get 5-6 years but will need notice as I don't hold these in stock.
The t-shirts are hard wearing and perfect for class (and don't ruin your fab clothes!) – just pair them with some joggers or leggings and your Little Learner is ready to go!
I also hold stock of messy resources – snoplay, gelli baff and slime (£5 a box), sachets of slime and snoplay (£2), crazy soap (pink, white, purple, blue – £3.50 each), egg chalks (£5 for a box of 6) and messy play kits (£5 – 2 x bubbles, inflatable tray, snoplay sachet and slime sachet) – just let me know what you'd like.  Payment can be made via bank transfer so it's nice and easy!
Feedback
Have a read about what customers think about my messy play sessions.  I always appreciate feedback about what I do – feel free to drop me a review on Facebook (Little Learners South Colchester), or on my Google Business page: https://g.page/r/CS7O-x0BnhNZEBM/review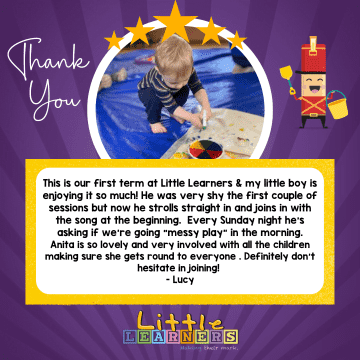 To view my Terms and Conditions, please click here
To view my Privacy Policy, please click here
I also accept Little Starts giftcards (or you can gift someone one of my classes using these!) – visit http://www.littlestartsgiftcards.com/ to find our more or get in touch.