Basingstoke,Blog
20/07/2019
Wowsers, where did that school year go? In September my eldest started in Year R and I feel I've blinked and he's now at the end. So although I'm looking forward to not doing last minute ironing, running up the hill to and from school or finding water bottles, book bags and jumpers, I'm also slightly dreading it. Fingers crossed for sunny days and days out.
This week it's 50 years since the 1st moon landing and 'space' seems to be everywhere (news, cartoons, even our local shopping centre is space themed!) Recently my children have been into space (especially my son) so we thought we'd share some space themed activities you could try out with your little ones. My children, Benny aged 5 and Emilie aged 3 loved them but I will also show you how these can be adapted to different ages.
Star Constellations
We used black paper to represent space, stuck a few star stickers on and then used chalk to draw the shapes. A great mark making activity. Emilie got a bit carried away and we used this activity to talk about shapes. We drew circles, rectangles, triangles and squares. She then decided to stick some stickers down for me to make shapes.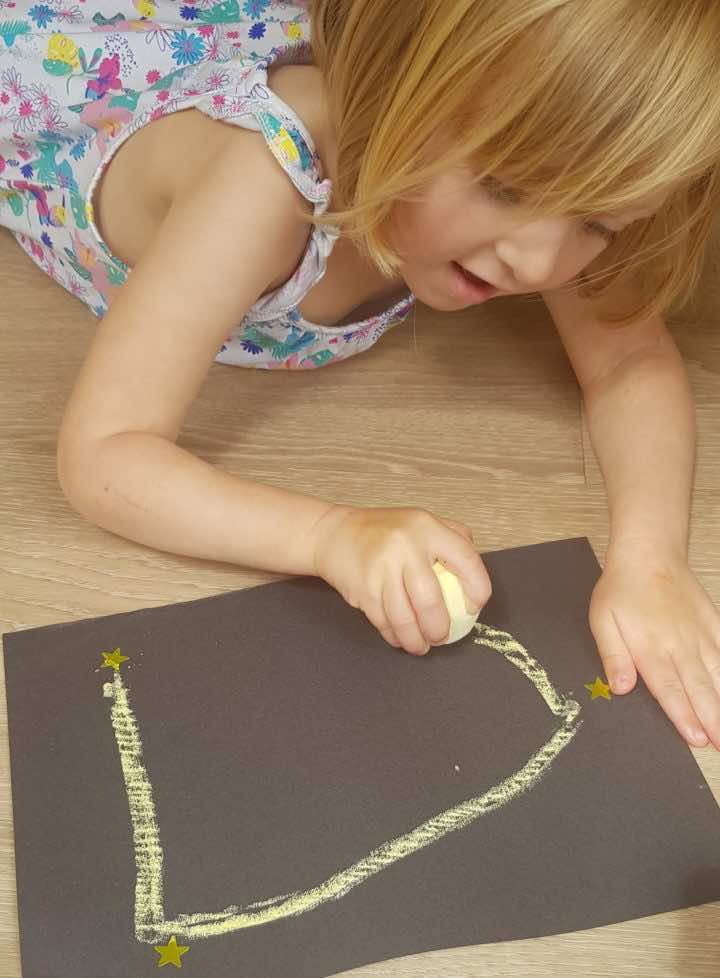 You will need: black paper, star stickers, chalk
How to adapt this: for younger children maybe use 2 stickers and see if they can join them up or even peel the stickers off and stick on (a great fine motor skill). Older children you could look at shapes of real star constellations.
Astronauts
This definitely turned out to be their favourite activity. Children are fascinated by costumes and uniforms so we had a chat about what astronauts need to wear in space and why. We rolled out some paper and stuck it to the kitchen floor. We then drew round each child, which resulted in lots of giggles. The children then added detail. Benny got out his space book and drew details. With Emilie I talked about the body and what we could add. She drew mouth, eyes, hair, gloves..etc. When they'd finished we cut them out and they are now stuck to the door.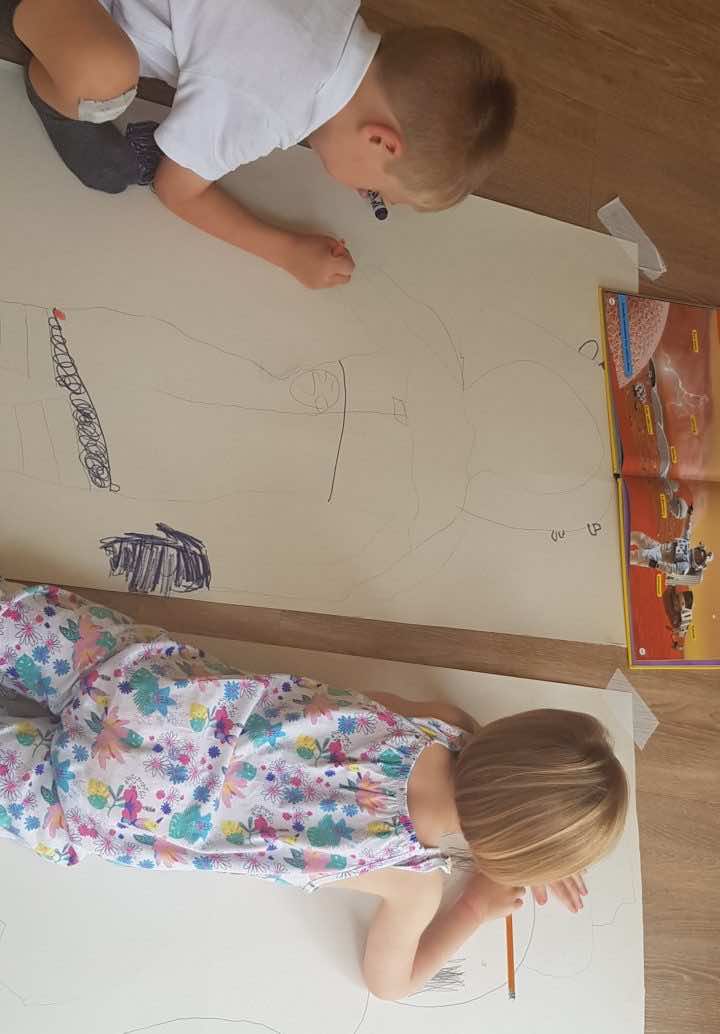 You will need: large paper (you can buy rolls of backing paper really cheaply), tape, scissors and any mark making resources.
How to adapt this: use paint or chalks for younger children and just let them mark make. For older children you could look at writing labels, speech bubbles.
Space Rocket
Both mine love junk modelling and whenever I head towards the recycling bin they somehow find a way of getting boxes, plastic bottles and anything they can to make something. This week Benny made this rocket.
You will need: any junk modelling, tape, any mark making resources.
Have fun and let me know how you get on and feel free to add some more suggestions in the comments below. We would love to try out different activities.
Thank you for reading.
Lene xx