About me
Hi, I'm Holly and I am the proud owner of Little Learners Southport. I deliver these multi award-winning children's classes in Southport, Ormskirk and Formby and hope to bring them to surrounding areas in the near future. 
I was a primary school teacher for 9 years and deputy head for 3 of them. I am also a mum of two (a 4 year old and a 2 year old – I'm completely in the thick of it!) Teaching has been my life for over 10 years now and I love being a part of children's education.  When I became a mum of two, I decided to put teaching on hold for a while and start a business that would give me a little more flexibility.  Little Learners allows me more time with my children during these important and fleeting early years.
What are our classes all about?
Getting messy and having fun is an important part of early childhood. In fact, babies and young children learn best through play, especially when it is unstructured and exploratory. As a teacher I am used to dealing with 'right and wrong' answers but with messy play there is no right and wrong! That's what I love about it! It is creative, fun and allows children to use all of their senses. When I first read about Little Learners I fell in love with the ethos of it straight away and I knew that it would be such a fun way to spend my days! Who wouldn't want to play with paint and playdoh or make rainbows and monsters out of spaghetti and glitter?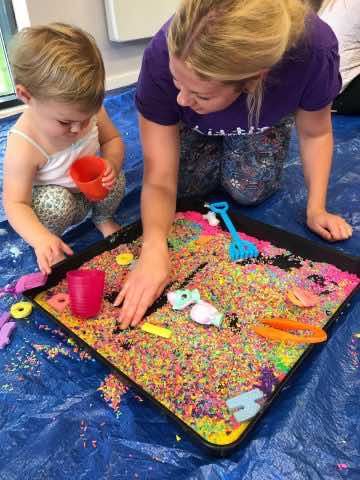 I am really excited to have brought this fantastic franchise to my home town because it is so different and fun! I am so proud to be part of this company and believe strongly in what sets out to do. As a company, we want all children to be happy and proud to make their mark. Above all else we want them to learn and have fun whilst doing it. Finally, my main aim is to create a happy and relaxed environment. Bonding and having fun with your little ones is everything and if you can learn a little about early writing and mark making along the way, then I have done my job!
Party Packages
I love hosting Little Learners parties! It is the PERFECT, fun alternative to the usual soft play or children's entertainers for birthdays or christenings. Did you know we can tailor our parties to your child's interests and favourite characters too?  A 'cake smash' party is very popular and we have also catered to themes such as Peppa Pig, Unicorns, football, Marvel Superheroes and 'Super Messy' which included all our class favourites. You could even theme it around your child's nickname or favourite toy. You can be as creative as you like or leave it all to us!
The party room would typically be set up with a variety of (themed) messy and dry trays, sensory play, painting and drawing stations, play dough, crafts and a dance area.  Our party packages start from £130 for up to 15 children and your party can be set up at a venue of your choice – we bring everything required, deliver the session and clear up all the mess afterwards – what could be better? For an additional £20 I can do a cake smash tray and photograph it all for you too!
We can also offer a home party package too! This can be as messy as you want! I can do dry messy trays with drawing and playdoh to limit the mess or I can even leave out the mess and just bring craft type activities and play party games with the children!
Email me for more information or to chat about your little one's big day: holly@littlelearnersuk.com
Reviews & Recommendations for my 5-star rated classes..
I am very proud to have received so many wonderful reviews for my classes from both mums, dads and grandparents.  My classes have a fun and friendly atmosphere, where EVERYONE is welcome and it is YOUR time to play and explore with your child.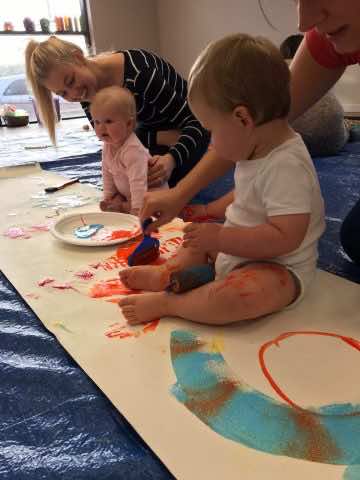 ★★★★★
Holly, thank you so much for bringing this fantastic class to Southport! My 7 month old daughter has absolutely loved it so far! What could be better than letting your little one get messy whilst they learn? And without the clean up at home afterwards! You're doing such an amazing job. We can't wait for next week to see what textures we can explore / eat!   –  Sian Naser (Mum to 9 month old Hera, returning for their 3rd block)
★★★★★
This group is so much fun… I take our 12m old son Lucas and he loves it! Holly is great and the sessions are are so well set up. It always seems a shame for us all to mess it up…
Highly recommended! – Ryan Kildare (Dad to 1 year old Lucas)
★★★★★
Me & my 6month old have just experienced this messy play for the first time and found it so much fun! She has learnt about different textures, colours, shapes/marks, smells and most importantly tastes (seeing as she eats everything in sight!!!) Thank you Holly so much for letting me and my daughter do something fun and getting creative and messy together! We're very excited to be returning for a second block. – Janine Adamson (Mum to 10 month Old Isla – returning for her 3rd block!)
★★★★★
My daughter loves her weekly messy play class- so many different stations and materials to play with and make marks. It's so lovely to have a class where small babies enjoy it as much as toddlers- and all get something out of it.  –  Laura Lissett (Mum to 20 month old Keeva, returning for 2nd block)
★★★★★
It's such a great experience for little ones to explore new things. Lots of choice and different textures to explore. My little one was really unsure at first, but after a few weeks and some perseverance at home too she now loves it and gets involved! Thank you!!  –  Nicky Rowell (Mum to 11 month old Heidi, booked on to 2nd block)
For Messy Play Classes Southport
View my privacy policy here.