About me
Hello, my name is Aisha. I am very excited to bring Little Learners mark-making and messy play classes to North West Kent!
I am a qualified teacher and have been teaching in Nursery and Reception for over 5 years. I'm a huge advocate of learning through play in the EYFS and the benefits of this to a child's social and physical development. It is by far the best (and obviously most fun!) way to learn. This is what we offer at Little Learners!
I deliver these multi-award winning children's classes in Bexley, Dartford and the surrounding areas.  We're all about supporting children to develop their mark-making (pre-writing) skills through educational messy play, gross and fine motor activities and lots of creativity!
Follow me on Facebook, Twitter and Instagram to be the first to know when you can book onto my upcoming classes!
Little Learners At Home! – Online Learning

Little Learners at Home – with Aisha is HERE! The term begins on the 25th January 2021 and is suitable for children aged 5 months to 5 years!
Plus this is available for all and you can join from ANYWHERE!
Lockdown doesn't need to mean your little ones can't have messy fun and continue their mark-making development!
When you have signed up to my online learning, you will gain access to an exclusive Facebook Social Learning Group where I will be uploading all the information you need to organise Little Learners activities at home.
There will be
pre-recorded videos and clear guides for each day
of that week so that you can access the learning for your child at a time that suits you and do not have to work around a set-time zoom class.
Like our classes, the online learning will be organised into 5-week terms, each week focusing on one of our Mark-Makers – Lionel, Archie, Swirlo and Ziggy. The 5th week will recap them all. You will have activities and videos to engage with 7 DAYS A WEEK!

*** Membership is for your WHOLE HOUSEHOLD and does not need to be paid per child. There will be two tiers of membership so that you can tailor the e-learning to suit your lifestyle. ***
All of this is £32.50 for 5 weeks per household in total! This is just 92p a day! Payment is taken in advance and is non-refundable.
If you'd like further information and to book onto the e-learning please either drop me a message or email me at aisha@littlelearnersuk.com
You can also register your interest by joining the waiting list above and I will contact you!
* P.S. If you refer a friend, you will both be entered into a PRIZE DRAW to win a Messy Play/Mark Making Bundle worth £20!!
*T&C's apply
---
Lockdown – Messy Play Hire Kits
Introducing Messy Play Home Hire Packs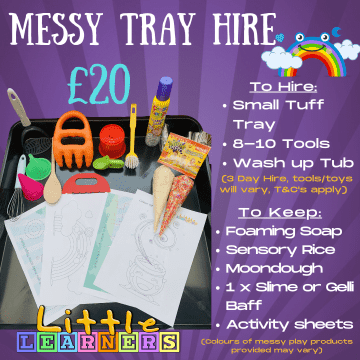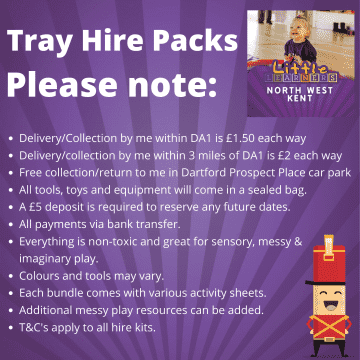 We may not be able to run classes at the moment but YOU & your little ones can still have messy play fun at home.
Hire one of our Messy Play Kits for 3 days from £18-£25
We have lots to choose from:
General Messy Play Tray Hire
– Assortment of tools to hire, and messy play perishables to keep – £20
Dinosaur Themed Tray Hire – Dinosaur toys and tools to hire, messy play perishables to keep INCLUDING a Dino Slime pack £25
Farmyard Themed Tray Hire – Farm Toys and tools to hire, messy play perishables to keep INCLUDING Gelli and Slime! – £25
Playdough Tray Hire – A 'less mess' option – your choice of 2 types of playdough to keep, and an assortment of tools to hire. – £18
If you'd like to add anything extra, for example, an extra cone of sensory rice, moon dough, Crazy Soap, Gelli or Slime, just let me know when booking.
** At the end of the 3 days, pop everything into my wash up tub for collection, and I will sanitise all resources before the next use **
Contact me to order or if you need further details
————————————————————-
** DELIVERY **
Delivery/Collection by me within DA1 is £1.50 each way
Delivery/collection by me within 3 miles of DA1 is £2 each way
Free delivery/collection in Dartford Prospect Place car park
Party Packages
Did you know we offer Little Learners birthday party packages? We tailor these to your needs and your child's interests, whether that be Frozen, Marvel Superheroes or Peppa Pig!
Our party packages combine all the exciting elements of our award winning mark making and messy play classes with a personalised birthday theme for your little one. Our 'cake smashes' are very popular for babies parties!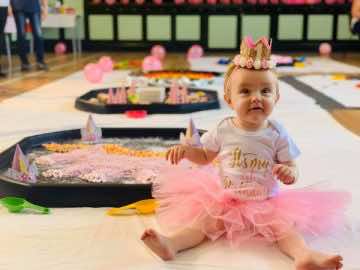 The party room typically will be set up with (themed) messy trays, sensory play, painting and drawing stations, play dough, crafts and dance area.
Your party can be set up at a venue of your choice – with (themed) messy trays, sensory play, painting and drawing stations, play dough, crafts and dance area. We bring everything required, deliver the session and clear up all the mess afterwards.
Parties at Home
We understand that with COVID restrictions many venues haven't opened up yet for your little ones to celebrate their birthdays or simply to have a party just because! That's why in the short term we are offering at home packages.
I'll come to your home/garden and set everything up.
Each family/household can have their own individual station upon request if you would prefer they don't share with other children.
The whole set-up can be themed to your child's interests, e.g. Peppa Pig/Paw Patrol/dinosaurs etc.
You keep tray contents/play dough to re-use as you wish.
Just put all items back in a box and I will collect trays/tools/pens/tarps the following day and take home to clean.
The availability of Parties at Home is dependent on most recent COVID regulations. Please contact me to find out more.
Drop me an email at aisha@littlelearnersuk.com to discuss the party packages, ideas, or any questions you may have.
Workshops for Schools
Coming soon…