About me
Hi my name is Sonya and I live in Dundonald with my husband Chris, my nearly 5 year old Daughter Leona and my 6 month old Son Evan.  I run award-winning Messy Play and Mark Making classes in Belfast and Conlig.
Throughout my life I have always enjoyed spending time with children. And when I became a Mummy for the first time it made me realise how much I wanted to work with children even more so.  I developed a real passion for children's learning and development.  Spending time with my daughter watching her grow and learn and now with my son too has made me a very proud.
When I came across the opportunity to become a Franchisee of Little Learners I was very intrigued and excited to find out more. After looking into what Little Learners do I was enthusiastic to start the classes. Messy Play and Mark Making helping children to develop those important early writing skills through messy play and of course having fun, what's not to love about this class!! I thought this is my chance to do what you love and enjoy – being around children in a fun, friendly and welcoming environment.
I've been running the first EVER Little learners classes in Belfast Tullycarnet Community Centre From May 2019 and in Conlig Community Centre from September 2019. I absolutely love what I do.  Watching the children develop, learn and progress has been so rewarding .  My classes have proved very popular and I hope to be bringing more classes across Belfast and North Down very soon.  Please get in touch with me if you would like more information about what we do.
I also can cater to birthday parties and events.
I look forward to welcoming you and your little one to one of my classes soon. Let's have lots of Mark Making Fun!!
Here's me and my family at one of my Little Learners classes back in January 2020.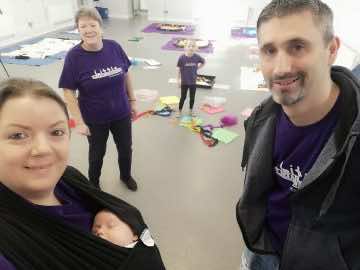 Little Learners at Home Classes
!!!UPDATE!!! Due to the current government guidelines for COVID-19 our normal classes are currently postponed and we are now running our Little Learners at Home Classes.  Go to the top of my page for more information on how to book.
Reviews & Recommendations
★★★★★
My daughter thoroughly enjoyed her class at little learners, interacting with children and getting to explore new materials. Sonya is extremely enthusiastic and professional and is great at keeping children engaged. I recommend it for all new mothers, it's a great activity to do together and your child will be learning through messy play without even knowing it. Each activity can be adapted as your child grows and develops which is brilliant. I also love that there's an educational element too. Sonya makes each class unique and loads of fun so you get to do different things each week. I cannot recommend this class highly enough! 5 stars!
★★★★★
Great class, educational messy fun. We enjoy meeting the mark markers each week and then getting stuck in. Lewis has grown in confidence since joining this class and his fine motor skills are coming along so well. Sonya does a great job coming up with new things for the kids to get stuck into.
★★★★★
I recommend this 100% my wee boy loves this class and getting messy and playing with new things every week. Sonya and her mum are just so lovely and welcoming and we look forward to coming every week ❤️xxx
★★★★★
Hats off to Sonya and her lovely mum. Olivia loves the classes we can't wait to start again
★★★★★
We love this class and Sonya and her mum are lovely
For Belfast Messy Play contact sonya@littlelearnersuk.com