About me
Hi, I'm Karen and I deliver Little Learners Messy Play & Mark Making classes around the Aire Valley area.
I live in Haworth with my husband, Tim and our three children, Evie, Ruby and Charlie.
I am a qualified teacher with over 20 years experience, the latter of which were in Early Years. I'm passionate about Early Years education and strongly believe that providing children with opportunities to develop their social, communication, physical and early writing skills through play is by far the best way to learn.
Little Learners offers this and it's fun too!
So come along, join us for lots of messy fun and help your child make their mark.
Party Packages
I love hosting Little Learners parties! It is the PERFECT, fun alternative to the usual soft play or children's entertainers for birthdays or christenings. We can tailor the party to suit your child's interests, for example; Peppa Pig, Unicorns, Football, Superheroes, In the Night Garden, Under the Sea, Disney, Vehicles, Pirates etc . . .
Our parties also include a 'cake smash', balloons, party hats and bubble machine!
The party room typically will be set up with (themed) messy trays, sensory play, painting and drawing stations, play dough, crafts, building blocks and puzzles. Your party will be set up at a venue of your choice – we bring everything required, deliver the session and clear up all the mess afterwards – what could be better?
For more information, or to check availability please get in touch – karen@littlelearnersuk.com


Reviews & Recommendations
★★★★★
My 15 month old is like a tornado! She is always running around and into everything she possibly can everywhere she goes! She loves being messy and creative and having the freedom to explore things at her own pace. She absolutely loves going to messy play! She is most definitely the messiest by the end of the session too! She tries to eat everything but it's fine as everything is safe for her! I don't need to tell her 'no' or 'stop' because everything is safe for her to explore however she likes! I have never seen my little one so excited to go anywhere! I'm definitely going to look at booking my second child onto the classes too when he/she arrives soon! And looking at booking my daughter onto the next term too! Definitely recommend these sessions, everything is fantastic, everyone is lovely and believe me..the kids have a fantastic time! – Gabbi Feather
★★★★★
Just celebrated our one year old's birthday with a Little Learners party! The baby and toddler party guests were in their element, and our four year old thoroughly enjoyed it too. The play trays looked so pretty before the kids were unleashed into them and the cake-smash and bubble machine made it feel like a proper birthday bash! Would highly recommend. – Anna Phillips
★★★★★
Absolutely love this session. First week we attended I thought would be the last due to 18 month old behaviour and lack of lol… However we continue to attend and now he conforms amazing and is now willing to get messy, but is also beginning to mark make with purpose… Slightly sad about the fact the mess does actually wash off… Had a perfect brown paint hand print on my jeans and did actually half hope it would stain...  – Zoe Westran
★★★★★
We absolutely love our Little Learners sessions, my 3 year old really looks forward to the group and gets so much out of it every week.
She loves having the freedom to explore the amazingly varied range of resources and materials which Karen lovingly prepares for the little ones each week. Karen's enthusiasm is infectious and her knowledge and experience of young children brings a really special quality to the group. Thanks so much, we love it! . .  – Lisa Balderstone
★★★★★
We used Karen & her lovely husband for our sons 1st birthday party! It was absolutely amazing! Great messy activities for the kids, even for the older ones who enjoyed it just as much! (My orange painted baby speaks volumes!) Karen really has the enthusiasm and knowledge and is super friendly! A lot of thought and effort went into it, from setting up to tidying away and I didn't have to do anything! We have had so many people mention how brilliant it was & when can they do it again! Thank you again so much, it really made Elias' birthday!! Faye Joyce
★★★★★
Had my sons first birthday party with Karen, the children (and the grown ups!) absolutely loved it!! You get sooo much for what you pay, and she even went out of her way to do an in the night garden theme. Thankyou!!
Lauren Wooloff
★★★★★
Came to a drop in session at Eldwick this afternoon and had an absolutely fantastic time. Excellent resources on offer for the children with enough time for them to explore each! We will definitely be coming again! Thank you
Sophie Ryan
★★★★★
My little one wasn't very sure about getting messy before we came to Little Learners.
However, a few weeks at Karen's classes has made a massive difference to her confidence.
We've enjoyed the range of activities each week. There's always been something new to try and a good mix of things for babies to play in too.
Karen's also been fantastic, each week, at explaining what is in each box and taking the time to getting to know us.
I'd definitely recommend it.  Claire Louise
★★★★★
Having only been twice, my 3 year old is literally buzzing about going back and talks about the experience often. His crisps are apparently rainbow (curve) shaped Ashleigh Baldwin
★★★★★
We have been coming to this class for many months ( lost count) and we absolutely love It! Always a great mix of messy trays and Karen makes it really fun. Helen Moran
★★★★★
Arlo has only been at little learners for 1 term but Karen is amazing and Arlo absolutely adores her! She makes the Experience enjoyable and fun I don't think anyone else could live up to her role and nail it like she does!
Everything is set out perfectly the mess is controlled but fun
Well worth the money!
Arlo love little learners
Thank you Leonie Underwood
★★★★★
Thank you so much had a lovely time was nervous about the messy play and the mess 🙈 but I shouldn't have been it was so much fun very friendly and organised thank you  Joanne
★★★★★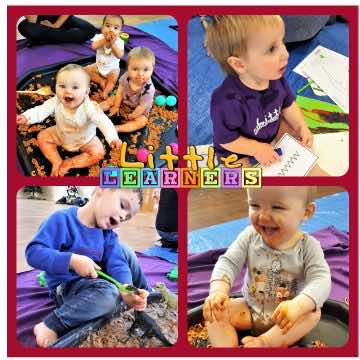 For Aire Valley Messy Play Classes, Events and Parties
Visit our Facebook page to see what we get up to in classes!
View my privacy policy here