Blog,South Colchester
03/10/2022
What's the best recipe for making playdough is often a question that I get asked – and it has taken a LONG time to find the answer!
Starting my Little Learners sessions means that I need to be producing soft, squashy playdough that is vibrant in colour and appealing to children. I think I have finally found a recipe that works, so I'm going to share it with you! I have doubled the quantity here, so this recipe makes a nice big lump but it's easy enough to halve if you want to make a smaller quantity.
You will need:
2 cups flour (gluten free if needed)
1 cup of salt
2 tablespoons cream of tartar
2 cups of water
2 tablespoons vegetable/coconut/olive oil
Food colouring or non-toxic poster paint
Bowl
Wooden spoon
Saucepan
Measuring cup and spoons
Method
Mix all of your dry ingredients together – flour, salt and cream of tartar in a bowl.
In the saucepan, mix your wet ingredients – oil, water and food colouring/paint.
Slowly, add the dry ingredients to the saucepan and stir well with the wooden spoon. When well mixed, put the saucepan over heat and slowly heat up, stirring continuously. The mixture will start to form a ball – it will also be hard to stir so prepare your arm muscles! Once the mixture has more or less all stuck together, remove it from the heat. I tend to dollop the ball out onto the chopping board and let cool for a bit. When it is comfortable to touch, give it a good knead. The playdough should feel soft, pliable and not too dry. (Don't be tempted to leave it on the heat for too long, as this is how it will dry out).
Your playdough should last for a couple of weeks if wrapped in clingfilm and stored in an airtight container – I like a tupperware tub for ease.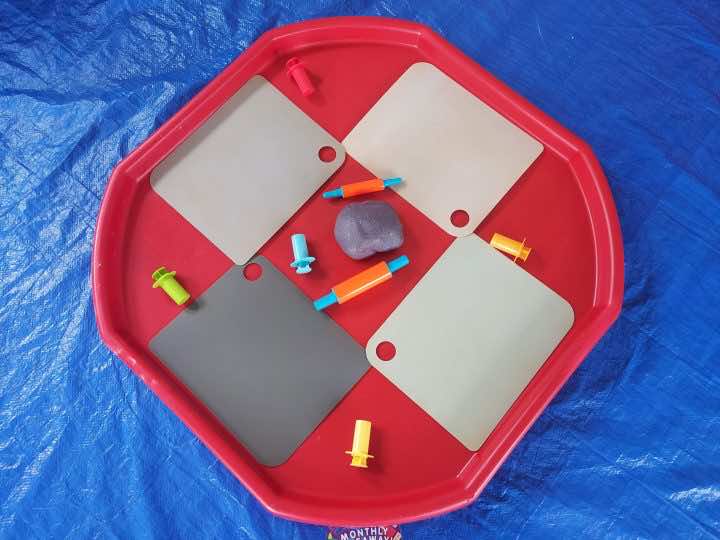 Want to make it fancy?
Add some spices (cinnamon, rosemary and paprika all work well)
Add some glitter
Add some scents – orange, lavender and mint are all good
Make it skin coloured – mustard powder, cocoa powder, pink poster paint and cinnamon can create different shades similar to skin tones
I hope that you enjoy making this playdough and your little ones have even more fun playing with it!
Anita x