Blog
31/05/2020
During lockdown the kids and I have played a lot of board games and made lots of puzzles. I found that games are a bit like books, children get drawn to the same ones over and over again! Board games are great for learning to take turns, counting and accepting you can't always win. This last one has been a tough one in my household but feel we are finally getting there.
We have played Junior Monopoly a lot and it is great. The other evening when I was settling Benny at bedtime, we got chatting about the places we miss and why places aren't all open at the moment. We were meant to go to Denmark this half term and it has been hard to explain and understand why we can't. We began writing a long list of places, some we miss and also places we would like to visit when they re open.
The next morning we decided to put this list into our own Monopoly game. We grouped the places into categories and then further into which would cost more or have more importance to us. We narrowed it down to: fast food places, favourite restaurants, playgrounds in parks, coffee and cake shops (I may have added that one!), days out, museums, leisure activities and then holidays.
How to make the game:
We taped 2 pieces of A3 card together. This was to make it bigger but also create a fold.
We drew out the squares and decided to make it our own by adding more places and taking off 2 chance spaces.
We then printed off some logos for some of the places and the children each drew and coloured the other squares. They loved it, especially the beach, go to jail and playgrounds.
We decided on colours and value for the spaces and added them.
Finally we wrote new chance cards and even linked some to lockdown. 'Get £2 for completing all your home schooling.'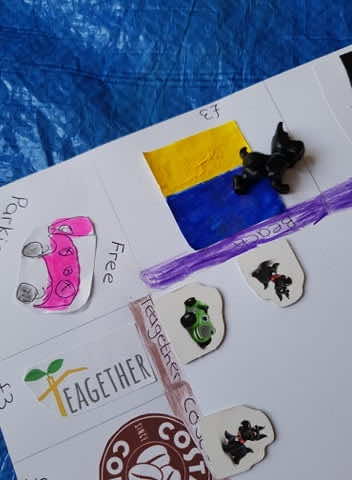 To play the game we used the same counters, money and tokens from the original game and followed the same rules.
This activity provided so much talk and it gave the kids a way to chat about the places they miss in a way they didn't even realise. It also gave me a bit of an insight into what places they miss. Some surprised me such as when Benny said ' I miss that pub we go to in the New Forest.' A pub where he had had a huge pizza for lunch ages ago. Also I kept thinking they would miss going to places further afield but actually it was simple, little things like going back to the playground in the local park. The playground we sometimes go to after school. Such an interesting and powerful activity to do with children. They are so proud of their game as each place has a meaning and is special to them.
Let me know if you make your own version of a game or feel free to share other lockdown craft ideas. Would love to re create another one.
Check out my blog on My Top 5 Tuff Tray Ideas for more great lockdown craft ideas! Visit Little Learners YouTube for loads of ideas to keep everyone entertained!
Lene x