Blog
13/10/2021
As Halloween creeps closer and closer, we thought we'd show off the hard work of our franchisees throughout the spooky season! Here are our top 10 Halloween Messy Play trays and our tips on how to make them yourself!
Putrid Pumpkins!
What say's 'Halloween' more than a vomiting pumpkin? Here's a super easy DIY tip on how to make your pumpkin come to life!
Once you've scooped out all of the seedy goodness from inside of your pumpkin, make sure to carve an open mouthed face like the one you see above! Combine the leftover seeds with a mix of cornflower, water and orange food colouring and there you have it! Pumpkin guts!
2. Spider Webs!
The patterns and textures of spider webs are really fascinating, make your own spider web tray with these tips!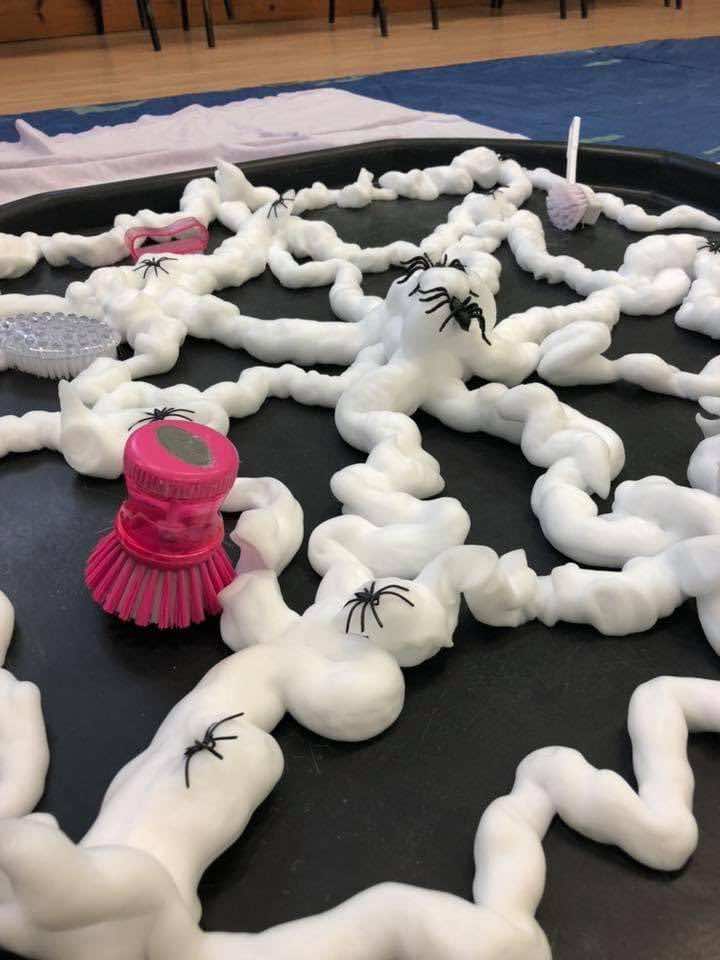 In order to make the concept of spider webs 'messy', this tray utilises Crazy Soap Foam which can be found on our online shop! The expanding foam is PERFECT for making alternating patterns all over your tray to make the perfect spider web!
3. Loopy Pumpkins!
A variation of our vomiting pumpkins, all you need is a can of spaghetti hoops…seriously!
Once your pumpkin is carved and ready to go, mix up a can of spaghetti hoops and combine with some green food colouring. It's as easy as that! Now you have your very own super creepy green vomit!
4. Chocolate Dirt
Making a graveyard scene is really popular when it comes to sensory trays so this recipe is perfect for a minimal mess way to make your own dirt!
This one is super easy, simply sift cocoa powder over the base of your tray and decorate to your liking! Now you have the perfect dirt alternative to make a spooky setting on your Halloween messy play tray!
5. Pumpkin porridge!
If the spaghetti trick doesn't satisfy your spooky needs then look no further! This version of the vomiting pumpkin is bound to make your skin crawl!
You'll need to bring back the green food colouring for this one; prepare some porridge, making sure that it's a super thick consistency and add in the food colouring. VOILA! Add some creepy crawlies or any Halloween decorations you wish and there you have your super gross, super cool pumpkin vomit!
6. Slimy Setup!
This is a super easy way to make a colourful background for your tray and makes for super messy play for your little ones!
All you need to make an eye catching background is some colourful Gelli Baff, this can be found on our online shop! This water activated product is great for messy play and the ability to customise the thickness depending on how much water you use makes the possibilities endless!
7. Pudding Pumpkins!
Don't have porridge? Don't worry! There are so many alternatives to use for those who don't fancy touching cold spaghetti!
For this extra gloopy recipe, all you need to do is dye some cold custard orange! It makes for a super thick and fun texture to play with. If you don't want to use custard, rice pudding works just as well and adds great texture!
EXTRA TIP: Once you've cut open the head of your pumpkin, let your little one scoop out the inside themselves! We leave spoons our for the kids to dig in and hone in on their fine motor skills!
8. Colourful rice!
It's super exciting when we create something that is not only useful for our classes but can be used year round for any season! Check out this mesmerising coloured rice!
The perfect way to customise your sensory trays, dry rice is super easy to sculpt and colour according to what your theme is. All you need is rice, vinegar (to prevent staining), food colouring and a clean container! Pour your rice and a few drops of whatever food colouring you desire, followed by half a tsp of vinegar. Shake the contents of your container and your rice is ready!
9. A Gruesome Mess!
For those who are super into gore, this Messy Play tray idea is simple but effective when it comes to sticking to the Halloween theme.
To make your own super easy fake blood all you need is to pour a can of Passata wherever you want blood to gush! The specific way Passata is made is perfect to mimic the texture of blood!
10. Slithering Snakes!
If you want to make a snake themed tray it helps to use other textures to mimic their slithery and slimy qualities, this will add to the overall creepiness of your sensory experience!
To mimic a sludgy swamp to house snakes and various creatures, we use the green 'Slime Play' slime, available on our online shop! The thickness of the slime is perfect to hide all sorts of creepy crawlies and makes for super sticky fun!
We hope you enjoyed looking at our Halloween messy play trays! To get involved in our Halloween classes and parties check our our website to find a franchise near you!
Devon Dolman- Marketing Assistant at Little Learners HQ