Blog
19/10/2021
Is your little one fascinated by nature? Want to find a way to let them explore in a safe and environmentally friendly way? Look no further! We're always finding ways to incorporate wildlife into our trays no matter the season. In this case, these wonderfully wiggly worms are perfect to bring the creep factor this Halloween!
Check out this amazing Little Learners tray! You wouldn't believe it was made completely out of household items, BUT IT IS! Here is what you will need to make this amazing tray setup:
YOU WILL NEED
A pack or two of neutral toned jelly (either strawberry or raspberry etc)
A pack of unflavoured Gelatine
A cup of whipped cream!
3 cups of boiling water
A pack of flexible tip straws
INSTRUCTIONS
Prepare your jelly according to the instructions on the packaging
Add your Gelatine packet
Once your jelly is cool add your whipped cream to the mix!
Once you've given the tips of your straws a wiggle so they're nice and flexible find a container that either tightly fits the volume of straws (if you can't find a container compact enough, simply use an elastic band to keep the straws together)
With a pouring utensil, transfer your gloopy mixture into the holes of your straws and leave them to set!
Once set, you can either squeeze out your creations by hand OR use a rolling pin to push out your wiggly worms from their mould!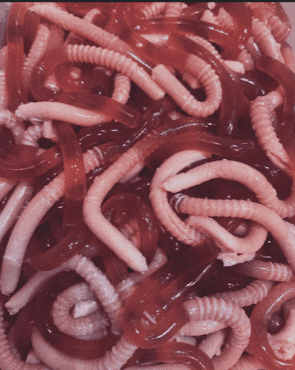 AND THERE YOU HAVE IT! Super squishy, super satisfying and SUPER realistic wiggly worms!
To give your worms their own habitat for your little ones to explore, all you need to do is crush some chocolatey biscuits to mimic the dirt! The creator of this tray used Bourbons!
This messy play idea is edible and 100% safe for your little ones to play with! Stay tuned for more messy play ideas and information about our classes/parties!