Basingstoke,Blog
21/02/2020
What are fine motor activities?
At Little Learners we develop our gross motor skills during the starter, where we use our arms, legs and do large actions to make our marks. The fine motor skills are the smaller movements, using our fingers, wrists, feet and toes. These activities help develop the muscles which will eventually enable us to control a pencil. By focusing/ developing the fine motor skills we are giving children the confidence and tools to become young writers when they start school. In my own teaching career I taught quite a number of children who had very poor pencil control. They tended to struggle with writing especially forming their numbers and letters, simply because their fingers didn't have the strength. This term I've had some fine motor activities out that you can easily re-create at home.
Activities you can try at home:
Threading pasta
A popular activity at Little Learner classes is threading pasta and making bracelets and necklaces. All you need is dry pasta, paint and some string. I put the pasta in a bowl (washing up bowl), squirt some paint in and mix with my hands until all the pasta is covered. I then tip the pasta onto a tray and separate them to dry. Note: do not put on kitchen roll, which I did the first time and the pasta stuck to the paper! and ensure the pasta pieces aren't touching each other. Now leave to dry. I tend to leave it over night but they should be dry after a few hours. Once dry you can start threading. I love using pasta in classes as opposed to beads as the children get to take their creations home. Threading is perfect for hand/ eye co ordination, grabbing, holding and recognising patterns.
Poms Poms in a bottle
Children are fascinated by putting small objects into things. I created a tray with pom poms, tweezers, a kitchen roll and a clear bottle. The children put the pom poms into the bottle, some using their fingers and others having a go at using the tweezers. We then placed the kitchen roll on top of the bottle and the children loved watching the pom poms fall. One little girl filled the bottle and then thought of ways to get the poms poms back out. The best way she found was to shake the bottle upside down and then laughed when they suddenly spilt all over the place. At home you could use a milk bottle, an empty drinks bottle or shower gel. You could use dry pasta, buttons or even rice.
Pegs
Most of us have a bag of pegs that gets used when the sun is shining and we can hang clothes outside. I bought a new bag of pegs and laminated some hearts to use for Valentine's themed classes. I gave them to my daughter to test out, and straight away she said 'Mummy can I make a pattern?' I hadn't even thought of that myself! She then used her fingers to open the pegs and place them on the heart. You could use a shoe box and place pegs along the edge or a piece of card. Let their imagination run wild and the pegs could be a gate, a fence for a farm or a doll's house. You certainly don't need a laminator or any fancy equipment for this one.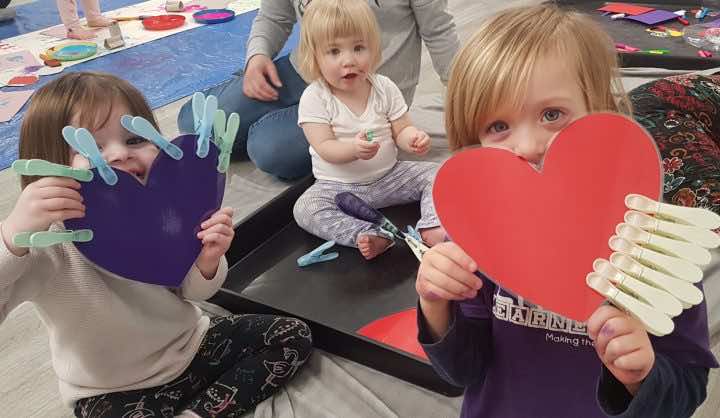 Cutting
Using scissors is tricky but such a vital skill to learn. The movement and control needs practise and concentration. In my classes I tried to think of different ways to use scissors. This term we cut spaghetti and play dough. The children loved it and acted out little scenes such as pretending to cut hair when cutting spaghetti or sausages when cutting rolls of play dough. I use children's scissors at Little Learner classes which aren't sharp. Note: please supervise your child. At home you could cut string, stars or cook some spaghetti.
Thank you for reading. Please share any other ideas in the comments below. I would love to hear them. What fine motor activities have you tried? What did your little one enjoy?
At Little Learners our activities are designed to aid and help develop Fine Motor skills. Visit our Facebook Page here to see what we get up to in classes.
Lene x