All Little Learners classes are open to children of different ages up to the age of around 5 (although older children love it too!). You can come to a class with children of different ages, knowing that they will learn at their own developmental stage. We design the trays so that different aged children will benefit in different ways.
Children learn by copying other children and so having mixed age classes means that babies have older children to watch and copy as they grab objects, pour the mess and make marks. Older children benefit by developing empathy in looking out for the little ones and sharing toys. And if, like me, you have one child, they love the experience of playing with younger children.
What are the benefits for babies?
Babies will experience new sights, sounds and objects. They can feel different materials between their fingers and toes. Young babies also like lying down on their back or front in the mess, so it's also great for some tummy time. The interesting materials encourage them to grab for objects or start to crawl and shuffle towards them. They watch in amazement as soap foam floats down in the air, rice is sprinkled or gloop is poured. Babies mark make with their hands and feet without realising it but they soon learn that the movements they make are connected to the marks that appear in trays.
As babies start to move, they are able to choose which station they want to play with. They pick objects up, bang them together, start to sprinkle the oats, rice or gloop and fill containers and empty them. Babies start to copy adults and other children as they make marks in the trays. It really helps them to develop their muscles and their pincer grip to pick up smaller objects.
What about toddlers?
Toddlers start to copy the marks we make at the start of class with our mark maker characters. When you show them how to make straight lines, curved lines, circles and zig zags, they start to copy. They make those marks in sand, rice, gloop, paint and with pens. One and two year-olds will start to learn new words as we play and enjoy playing alongside other children.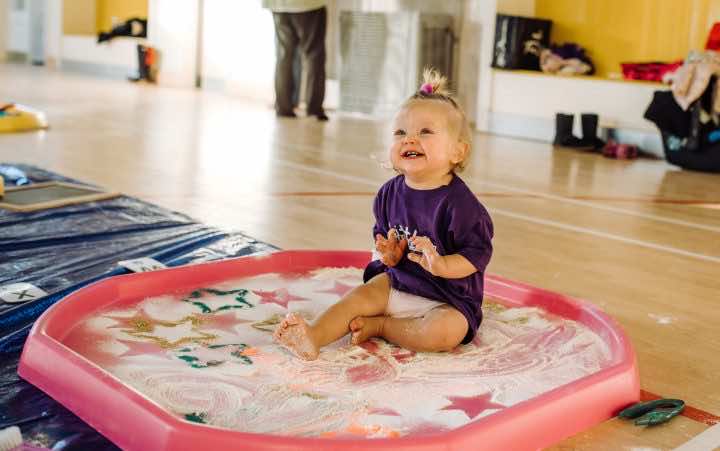 And three and four year-olds?
Preschoolers can start to copy the mark makers and make all the different marks and also begin to form some letters too. They develop their fine motor skills and the strength in their hands which makes it much easier to have a strong and comfortable pencil grip. Children can also practise other essential skills like using scissors. The skills they learn and practise at Little Learners classes will set them up for many of the activities they will do at school.
If you have attended Little Learners in the past when your child was a baby, why not come back and help them further their fine motor skills and letter formation all through play?!
Katie x