Blog,Manchester North
31/07/2018
Time away with your young family is precious; lots of memories to be made! I have done many a trip away with my two little ones; learning what to pack and how to entertain them is still ongoing! I do have just a few mummy tips to share about travelling with children and 'away from home hacks'!
1) Swifter airport experience- my husband hates the whole 'faffing' bit that happens between leaving the house and actually getting on the aeroplane, to the point that we have now mastered the swiftest route!
• Did you know there is such thing as 'Meet & Greet Parking'? It's not as posh as it sounds; it just means that you get to park really close to the airport terminal and therefore there is less changing on to buses and/or distance to cover before getting in to the actual airport building itself. Of course this is pricier than usual airport parking but to pay for M&G parking I always look for a bargain; voucher codes can be found on the internet and be sure to check Groupon.
• Don't forget families with children get to use the 'Fast Track' through the airport; you enter shorter queues or no queues at all. You don't always need to do tonnes of 'snaking', it often cuts all that out too. I have noticed that unless the staff are shouting about it then not all parents use this. Look for the Fast Track signs and follow them or ask the staff to guide you past the huge lines of people!
• Also, families with young children are asked to board first; go straight to the front at the gate with your kiddies, no need to wait to be called forward. You can be boarding and getting them settled rather than standing out at the gate in a queue.
2) iPad/tablet use on a flight- OK, yes is it a controversial issue! Currently, children are seen to be on their technology far too often, but I don't think there's a more appropriate time to use a tablet for entertainment for your child than on a flight! In such a confined space for such a long time a tablet is an excellent distraction; there are plenty of fab educational toddler games and I'd recommend downloading the one film/episodes they enjoy to watch on repeat! Headphones are a must as not to disturb others who are hoping for a quiet flight. For other inflight entertainment we like to walk up and down the aisle for 10 minute bursts, saying 'hello' to other children and making small talk, why not!? You may pack other (mark making!) toys for the flight but I would say a tablet is the best!
3) Take washing powder and washing up liquid- Pour some of your washing-up liquid and washing powder in to those small powder holders (see image) and pack in your case. Whether staying in a hotel or self-catering, you can use the sink for soaking stained baby clothes, washing through items you want to wear again and washing bottles/baby cups etc! I have many a time used a kettle of water in the tiny bathroom sink to clean things ready for the next day! You may want to pack your bottle brush or take a sponge.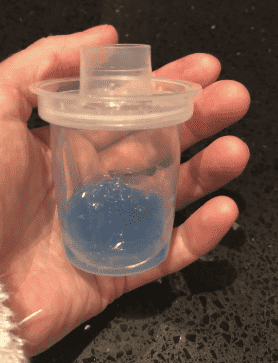 4) Take disposable bibs- Tommee Tippee do a pack (Amazon/Boots) of 20 called Explora; the end turns inside out acting as a catcher; they're lighter weight for your bag. They save you carrying about dirty bibs in your beach bag and one less thing to wash in your sink!

5) Pack a couple of small Tupperware tubs- Whatever age your child/children, if you are staying in a hotel take the containers down to the buffet with you at breakfast and pop in some fruit and dry snacks, so you have snacks at hand for your little one throughout the day. (Then you can wash them in your sink at night!).
I hope these pointers have helped on your exciting mission of travelling abroad with your children! Wherever you are going this summer have a wonderful time packed full of special moments!
Jen – LL Manchester North