Blog,Wolverhampton
19/07/2018
I keep seeing these amazing DIY Bubble Blowers pop up on the internet and on Pinterest, and I thought I would see if they work as good as they say they do. They do! My boys loved them. So if you want to entertain your kids without spending any money, this is a great idea.
You will need:
A sock
A plastic bottle
Scissors
A bowl
Washing up liquid
What you need to do:
Firstly squeeze the air out of the bottle – this will make it easier to cut.
Carefully cut off the end of the bottle.
Cover the open the open end with a sock. (I folded the sock over as it was quite big).
Fill the bowl with water and add some washing up liquid.
Dip the end covered in the sock into the bowl.
Remove the bottle lid and blow.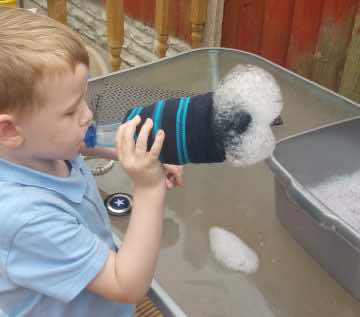 It will make a long train of bubbles which totally amazes the kids.
You can use any size bottle too! I also tried a small bottle with a small sock.
Have fun!
Amanda – Little Learners Wolverhampton