Blog,South Colchester
31/01/2023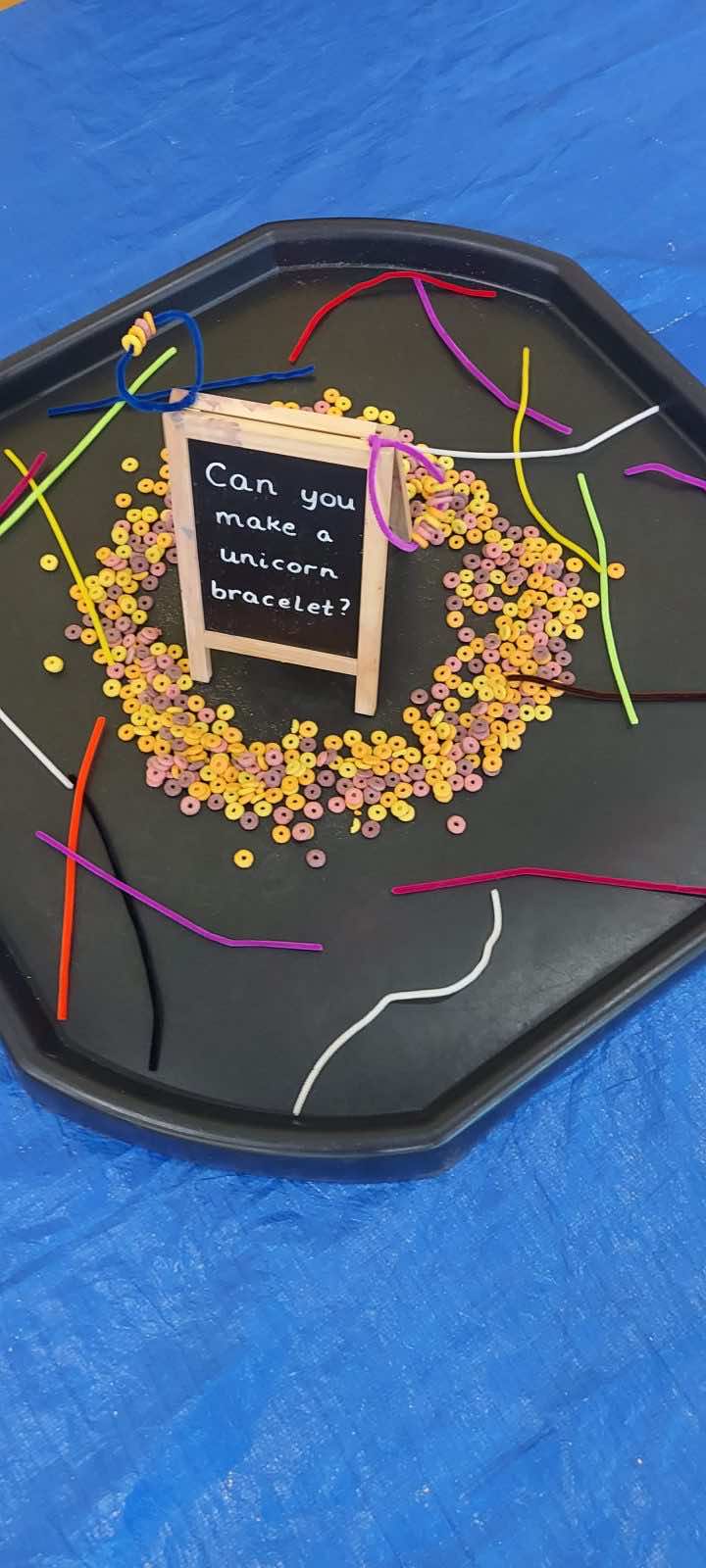 This week one of our most popular trays was the threading – cunningly disguised as a Unicorn Bracelet making station. The children were initially attracted by the look (and taste!) of the colourful cereal hoops. With their adults support, they were encouraged to thread these onto pipe cleaners to make a bracelet.
Threading is GREAT for developing hand-eye co-ordination and can be practised from a very young age right up to school age and beyond. This is a crucial ability that lies at the core of many academic, sports, and life skills. It allows children to use their vision and muscles to practise the skills needed to perform tasks such as writing, drawing, tying shoelaces, or catching a ball.
Build up your child's competence by trying some of these easy to set up activities at home
Babies – try using stacker puzzles similar to the one in the photo above. Large chunky pieces that your little one can get their hands around and a solid base to aim for are ideal. It doesn't matter if they can't order the pieces correctly; simply threading them onto the stacker will be enough.
Toddlers – cereals and something slightly less rigid than wood is good to continue their development. I love using pipe cleaners because a) they're bright and colourful and b) they provide some rigidity but also flexibility to assist little hands. Buttons, cotton reels and cereal hoops can all be easily threaded onto them. Pipe cleaners also 'post' nicely through a colander or net basket if you want to try something different.
Pre-schoolers – let's make it trickier still! A shoelace is great for this age group as it takes lots of control to get into the right hole. Buttons, pasta and beads are smaller items ideal for threading. Try to avoid string or wool as the ends fray easily (you can tape these up like a shoelace). You want it to be challenging but not impossible!
Little Learners provides lots of opportunity to practise fine motor skills such as threading. Pop to our website to find out about your nearest class!
Anita