Blog,North West Kent
08/09/2020
It's aallll about those little hand muscles!
Pre-writing skills and mark-making are the foundation of a child's ability of learning to write and are a huge part of their long term development. The first step towards writing! Pre-writing skills and a child's muscle development go hand in hand (hehe). They make up a child's ability to hold a writing tool, let alone use it to draw, paint, trace, colour and write.
Children are being expected to write sooner and sooner before their 'writing readiness' has even come to fruition. To rush through this part of a child's development can lead to frustration, resistance and lost confidence with writing later on when it becomes an every day part of their school life. (usually in Reception – 4+ years old).
Writing Readiness Building Blocks
– Pre-Writing Shapes
Pre-writing shapes make up most of the letters, numbers and early drawings/patterns that a child will come across and are at the heart of pre-writing skills. At Little Learners, our mark making program is designed to familiarise children with four of the marks we've singled out. During each class, we offer a range of carefully planned activities that will be inviting, exciting for fun for children. We believe that the more fun & repetitive exposure a child has to these shapes, the more confident and ready they will be for writing in school.
– Gross Motor Skills
Developing gross motor skills is a crucial stepping stone towards fine motor development and learning to write. Activities focused on building a child's upper body strength, e.g the upper arms and shoulders, will give a child strength and stability. As a result they will be better able to control the mark-making tools they're using.
Likewise, larger scale gross motor activities such as sports, dance etc will support the development not only of the involved muscles but also a child's hand-eye coordination.
Gross motor activity examples
throwing, catching, kicking a ball towards a target
mixing in a mixing bowl while cooking
climbing – even low level climbing and balancing activities
digging in sand or soil
crawling through tunnels
dance and yoga
For a baby, things like 'tummy time' are so important. It is crucial for developing a strong core so they can sit upright, and a strong neck so they can support their own head. Lots of exploring on the floor with the addition of a few sensory experiences go a long way to developing these strengths.
– Fine Motor Skills
Fine motor skills are what help us to control and manipulate tools. So for a child it's activities that build their hand and finger strength as well as the stability and control in their wrists.
Activities designed to support fine motor skills will often develop atleast one of 3 actions:
Grip strength – this can be felt by making a fist
pinch strength – so a high level of finger control for holding pencils, paintbrushes etc
hand-eye coordination aka visual motor integration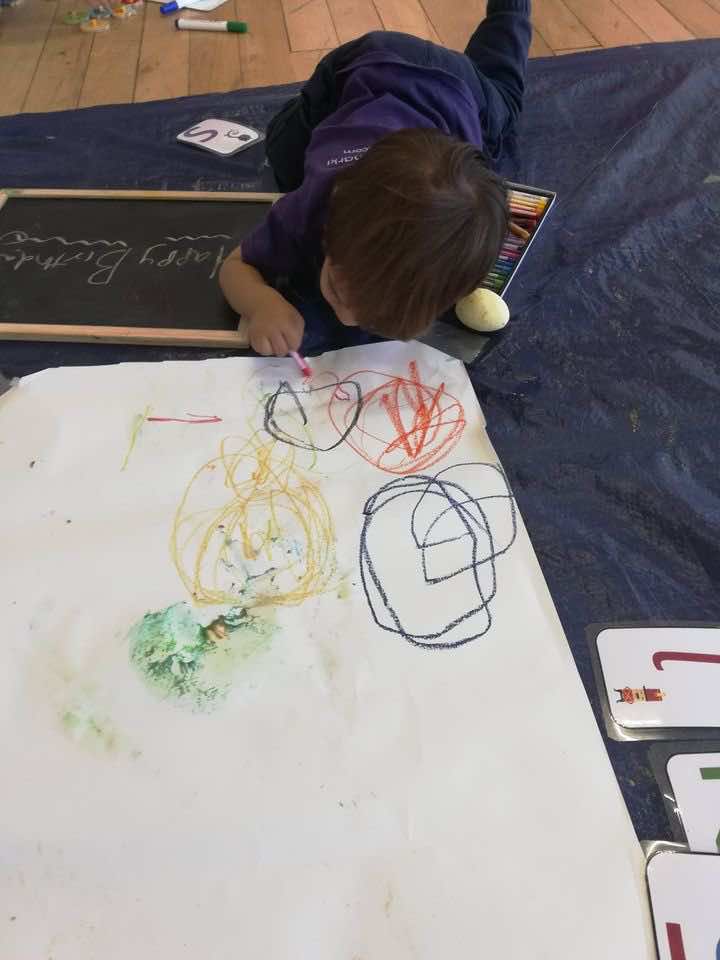 Fine motor activity examples
activities using chunky children's tweezers to collect little objects like pebbles, pom-poms, counters, animals etc and place them in a target i.e., a bowl/container are great for all 3 of the actions above.
taking part in cooking activities, chopping up fruit for a fruit salad or veg for soup.
squeezing, rolling, manipulating playdough.
drawing and scribbling – and drawing on vertical surfaces is particularly helpful for left-handed children.
threading
playing with peg boards
cutting or tearing according to an outline
doing up buttons and zips
Finally, while tracing and worksheet style letter formation activities can be very useful to an older or more confident child, there are lots of fun and effective things to be done before that to help a child reach that stage.
Contact your local Little Learners teacher to book onto a term of structured, play-based mark-making classes to support you and your child in developing these important skills.
Aisha @ Little Learners North West Kent 🙂
Our top tip for encouraging children to develop their handwriting features in Twinkl's 9 Tips to Inspire Reluctant Writers to Write.