Blog
05/10/2020
We LOVE using Little Brian Paint Sticks in our classes. They are a huge hit with both Children & Adults.
They offer a fun, clean and very convenient way to paint. Water soluble, child friendly solid paint sticks that twist up and down just like a glue stick. No need for brushes or water. Just uncap and paint directly onto your chosen surface.
Easy and quick to set up and pack away
Compact, portable and quick drying – Ideal for when you're out and about
Use on paper, board or even glass! Wipes effortlessly from windows
Use them for blending, washing, etching and stamping!
All the fun, less mess!
Our fab range on our website shop includes………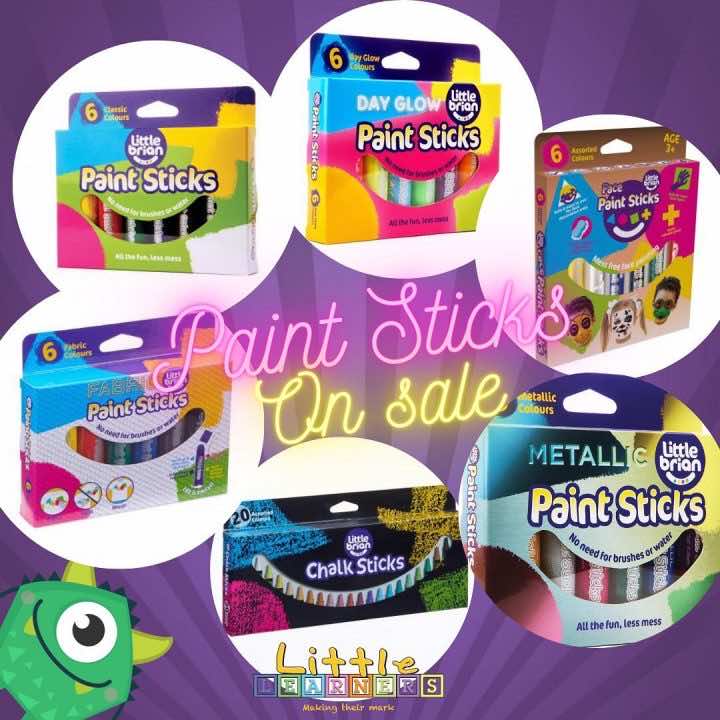 Classic Colours, Fabric, Metallic, Chalk, Neon and even Face Paints!!
How fab is that? No sponges or brushes and your little ones face is painted in minutes! The answer you have all been looking for!
You want to give them a whirl yourself now don't you? We don't blame you, they are SO MUCH FUN!! The full range is now available in our online shop too! Take a look here >> https://littlelearnersuk.com/shop/
You can also download our FREE downloadable range of Activity Sheets for some colouring fun here. ALSO now available is our Halloween range of colouring & activity sheets!
Why not check out our YouTube for more super fun play ideas like this one!