About me
Hi I'm Kirsty and I run Little Learners classes in Wearside and Hartlepool.
I am a qualified teacher with over 15 years experience, the latter of which were in Year 1 and Early Years. I'm passionate about early education and believe that providing children with opportunities to develop their social, communication and physical skills through play is the best way to learn. Being an infant teacher I understand the importance of mark making from an early age. The experience and skills taught in mark making are crucial for a child's development. Little Learners involves your child in mark-making and educational messy play activities which helps to develop their early writing skills, core strength, coordination, fine and gross motor skills, social skills and more!
I enjoy being part of children's development especially seeing them gain new skills and knowledge, something I find very rewarding. Little Learners offers this and it's fun too! My aim is to deliver warm, fun, friendly and educational classes, where both children and adults feel welcome and valued. Families will be able to learn about mark making as well as have fun and spend quality time together.
I run classes throughout Sunderland, Houghton le Spring, Seaham, Peterlee, Hartlepool and nearby areas so join the fun and together we will make our mark.
What are our classes all about?
Getting messy and having fun is an important part of early childhood. In fact, babies and young children learn best through play, especially when it is unstructured and exploratory. As a teacher I am used to dealing with 'right and wrong' answers but with messy play there is no right and wrong! That's what I love about it! It is creative, fun and allows children to use all of their senses. When I first read about Little Learners I fell in love with the ethos of it straight away and I knew that it would be such a fun way to spend my days! Who wouldn't want to play with paint and playdough or make rainbows and monsters out of spaghetti and glitter?
Visit our Facebook to see what we get up to in classes!
*Party Packages*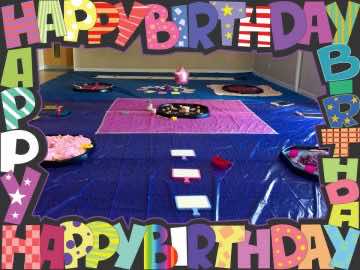 How about something a bit different for your little one's birthday, christening or any other celebration?! Do you know we can tailor our party packages to your child's interests or favourite characters?
A 'cake smash' party is very popular and we can cater to themes such as Peppa Pig, Unicorns, football, Marvel Superheroes and many, many more.
Alternatively, a 'Super Messy' includes all our class favourites. You can be as creative as you like or leave it all to us!
The party room is typically set up with a variety of themed messy and dry trays, sensory play, painting and drawing stations, play dough, crafts and a dance area. Our party packages start from £75 for up to 15 children and your party can be set up at a venue of your choice – we bring everything required, deliver the session and clear up all the mess afterwards – what could be better? For an additional £25 we can provide a 'cake smash' tray too!
Email me for more information or to chat about your little one's big day:
Reviews & Recommendations for my 5-star rated classes..
I am very proud to have received so many wonderful reviews for my classes from mams, dads and grandparents.  My classes have a fun and friendly atmosphere, where EVERYONE is welcome and it is YOUR time to play and explore with your child.I've
⭐⭐⭐⭐⭐
Took my 5 1/2 month old daughter today to the session at Seaham and she thoroughly enjoyed it! There were lots of different messy play activities on offer such as whipped cream, shredded wheat, jellybaff and her favourite the purple mashed potato! We also enjoyed painting and mark making on the large paper. Also was given a nice tub of warm water to give her a little bath to clean her down at the end of the session. Really chilled out and had a great atmosphere. The lady was fabulous with the children and really put lots of effort in to the session! It tired my little one out so much that she had a very very long nap on the afternoon! Thank you very much for a wonderful first session! – Laura Green
⭐⭐⭐⭐⭐
My daughter loves getting messy and loves the wash in a big tub at the end! Would definitely recommend people book up! – Penny Williams
⭐⭐⭐⭐⭐
Had a great time at the Easter event with my 4 year old. There were loads of activities , plenty to amuse babies right up to school age. My little girl wanted to stay "forever"- Deborah Foster
⭐⭐⭐⭐⭐
Really enjoyed our first time at little learners. My little boys are 5 and 15months. They loved all of the messy play and plenty of activities to keep them both entertained. Will definitely be booking again. Thank you for a great morning xxx – Julie Wylde
⭐⭐⭐⭐⭐
Took my 1 and half year old granddaughter for the first time today, she loved all the messy activities and I loved the relaxed friendly atmosphere….we will definitely go again xxx – Christine Wright
For Messy Play Classes Wearside and Hartlepool
View my privacy policy here.