About me
About me
Hi! Im Beckie, I live in Much Hoole, near Preston with my husband and our two little boys. I am a qualified Early Years teacher with many years of experience working with children from 0-6 years. Having attended Little Learners Southport classes with my own children for almost four years, I have seen first hand the benefits that early mark making and messy play can have on so many areas of learning and development. So when my youngest started school, I decided to take over the franchise from my lovely friend and it was the best decision I have ever made. I love the flexibility it gives me, meaning I can do all the school runs and all my class prep at home too. It's the best job in the world being able to use my Early Years expertise to plan fun, engaging activities and play experiences for your little ones!
What are our classes all about?
Southport Messy Play
Getting messy and having fun is an important part of early childhood. In fact, babies and young children learn best through play, especially when it is unstructured and exploratory. Messy play and mark making is creative, fun and allows children to use all of their senses whilst developing those all important fine motor skills and strengthening hand muscles in order to support their early writing journey. Our unique 'Mark Maker' syllabus sets us apart from other messy play companies – setting children up for nursery and school through play based, child-led activities tailored to the 'mark of the week'.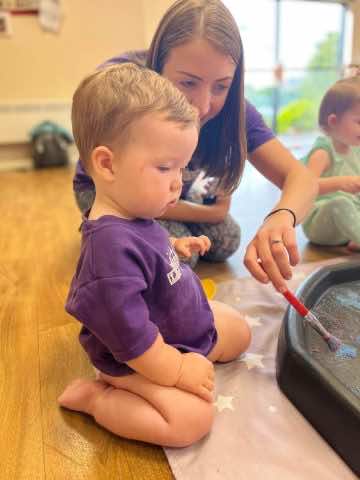 I am really excited to have brought this fantastic franchise back to Southport and the surrounding areas! Little Learners is an amazing company and believes strongly in what it sets out to do: make all children happy and proud to make their mark. Above all else, we want children to learn and have fun. Finally, my main aim is to create a happy and relaxed environment for parents and children. Bonding and having fun with your little ones is everything, and if you can learn a little about early writing and mark making along the way, then I have done my job!
Rest assured that you will always be made welcome in class – after all I have been there myself – a mum of two tiny boys rocking up to class with car seats, coats, sippy cups flying everywhere, nervous in case no one spoke to me or my baby cried! Our classes are a great place to meet other parents and grandparents and a chance to have some adult conversation (which we all know can be in short supply during a day at home with toddlers!).
Party Packages
I love hosting Little Learners parties! It is the PERFECT, fun alternative to the usual soft play or children's entertainers for birthdays or christenings. Did you know we can tailor our parties to your child's interests and favourite characters too?  A 'cake smash' party is very popular and we can also cater for themes such as Peppa Pig, Unicorns, football, Marvel Superheroes and 'Super Messy' (which include all our class favourites). You could even theme it around your child's nickname or favourite toy. You can be as creative as you like or leave it all to us!
The party room would typically be set up with a variety of (themed) messy and dry trays, sensory play, painting and drawing stations, play dough, crafts and a dance area.  Our party packages start from £160 and your party can be set up at a venue of your choice – we bring everything required, deliver the session and clear up all the mess afterwards – what could be better?
Home Parties!
We can also offer a home party package, which starts at £120 for up to 10 children. This can be as messy as you want! Usually these are outside in the garden so painting and messy play isn't a problem – however I can do dry messy trays with drawing and playdoh to limit the mess if it's inside the house.
Email me for more information or to chat about your little one's big day: beckie@littlelearnersuk.com
Reviews for our Southport Messy Play classes..
I am very proud to have received so many wonderful reviews for my classes from both mums, dads and grandparents.  My classes have a fun and friendly atmosphere, where EVERYONE is welcome and it is YOUR time to play and explore with your child.
★★★★★
We love messy play with Beckie! Beckie is really friendly, always takes the time to chat to you in class!
The variety of messy play each week is fab! Some dry things and some wet (extra messy) things
Rory is starting to come out of his shell and explore more! We can't wait for more messy terms
My little girl who is nearly 5 has also really enjoyed coming during the school holidays! Perfect for both my kids which is hard to find a group suitable for both ages!!
Becki Thistlethwaite
(Mum to 1 year old Rory)
★★★★★
What can I say. From the moment we first booked Little learners messy play in Southport , Becky was quick to send over
details of the classes and is so warm and welcoming. Each week is a different theme and always so much effort has
been put into place. My little boy adores dinosaurs so Becky made the most thoughtful effort to include
them into each class. Becky always takes time to talk to each parent and she is just brilliant at what she does.
My little boy 2 and little girl 1 and husband too
all love going to messy play and it is just a great well organised class.
We can't wait for the next Classes!
Emma-Jane (mum to 3 year old Logan and 1 year old Amora)
★★★★★
My little girl absolutely loved her session at Beckie's messy play, painting, playing in the foam and exploring all the other trays!
I can't wait until my little boy can start

Beckie is so lovely and welcoming and always makes times for chat!
Love seeing the pictures of all the different themes! Excited to come again
Carrie (mum to 4 year old Francesca)
★★★★★
My little girl absolutely loves little learners! There's always a variety of messy play ,
Becky is lovely and so welcoming!!
There's always a different theme every week and it's always exciting!
We can't wait for more terms , Thankyou Becky xx
Jess (mum to 1 year old Heidi)
For Southport Messy Play Classes
Or visit our Facebook to see what we get up to in classes!
View my privacy policy here.