About me
Hello!
I'm Toni and I own Little Learners North Tyneside. I am a qualified early years educator and have been working in childcare for 10 years. As an early years worker I have a great working knowledge of the EYFS and lots of experience putting that into practice providing experiences for children to explore and learn through their play.
We came to our first Little Learners when my Daughter was just 7 months old. We attended our first session outdoors in Jesmond Dene and the rain certainly didn't put us off.
I have seen the benefits of Little Learners classes personally, having watched my daughter thrive and learn through her play and making marks. While it's super fun getting messy it's also so rewarding watching her pick up tools to create her own marks not just in class but elsewhere.
My aim is to deliver fun, friendly and educational classes for both you and your little ones. My classes are
Whitley Bay on Monday 10-11am,
West Moor on Wednesday 1-2pm,
Keep scrolling to the bottom of the page to find out what events are coming up in North Tyneside and book a class!
I look forward to meeting you in classes please contact me for any further information you need. See you soon!
Party Packages
I love hosting Parties for your little ones! Did you know we can tailor our parties to your child's interests and favourite characters?  A 'cake smash' party is very popular and we have also catered to themes such as Peppa Pig, Unicorn, Superheroes and Pink and Sparkly which included all our class favourites.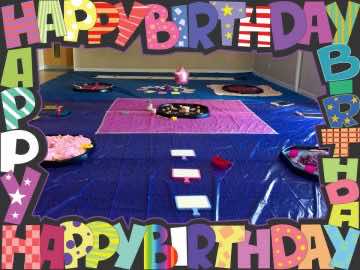 The party room typically will be set up with (themed) messy trays, sensory play, painting and drawing stations, play dough, crafts and dance area.  We have 3 party packages for up to 15/20 children. Your party can be set up at a venue of your choice – we bring everything required, deliver the session and clear up all the mess afterwards – what could be better?
Parties don't have to just be for birthdays. Fancy a get together with your friends and your children and want to do something bit different? Why not join together and book a private Little Learners session between you at a time that suits?
Email me at toni@littlelearnersuk.com for more information and a full party package pricelist.
Reviews & Recommendations
★★★★★  Jackson loved his 1st time at little learners and eating all the mess 
💙
💙can't wait to come back #littlelearners – Kelly
★★★★★ So, this little Mummy had so much fun this morning and has just woken from a three hour nap!
😱
💛 couldn't believe it! Can't tell wether she enjoyed eating the potato printers or the dried lentils the most… 
🤦🏼‍♀️
🤣Although she loved a few choccy buttons as well 
👍🏼 Thanks for this morning, it really was good fun!#littlelearners #learningthennapping – Amanda
★★★★★  Jacob loved his first term at Little Learners! The activities are great fun and the mother's day themed class was very thoughtful. Toni is fab with the children and does a great job. I would highly recommend these classes to anyone with children who don't mind getting a bit messy – Louise 
★★★★★ Oliver loves attending little learners. His pencil control and letter formation is coming on brilliantly. He's not so keen on really 'messy' play but with a little encouragement he is beginning to try all the activities – Danielle.
★★★★★ My 2 yr old absolutely loves this class. The activities are fun and engaging and appeal to the wide age range! Toni is fabulous, managing to get round everyone in each class and creates a fun and safe environment for the kids to explore. Highly recommend –Caroline
   For Messy Play Classes and Messy Parties in North Tyneside
View my privacy policy here.