About me
Hello, I'm Bernice and I run Little Learners Messy Play classes in Windsor, Maidenhead and Slough!
I am a qualified Early Years Teacher and have enjoyed working with little ones for more than 10 years. My classes give children every opportunity to have fun and learn through play. There are so many important skills that they develop in early life and I am proud that they can do so at our classes.
Messy Play Windsor, Maidenhead & Slough
After having my first little boy, I wanted to do something flexible that would allow me to spend quality time with him. I also wanted to use the experience and passion I have for helping children learn and grow. Little Learners is what I found! I love that our young Mark Makers can not only have lots of fun, but also build their early writing skills, their core strength, fine and gross motor skills and social skills. After all, messy learners are happy learners!
At my classes, I hope to provide a special place where parents and children can bond and enjoy their learning, while getting to know other young families from the local area.
Come and join us for lots of fun in our relaxed, friendly and hopefully, MESSY classes in Windsor, Slough & Maidenhead!
Maidenhead Classes
Our classes are currently on Thursdays from 10:15am to 11:00am at the lovely Dorney Village Hall.
We regularly run 4 or 5 week terms as well as special themed one-off classes – get in touch for more info or have a look at the booking links at the top of this page!
Party Packages and Garden Gatherings
Celebrate with Little Learners and Messy Play!
Whatever the occasion, I can tailor your party to your child's interests. I provide a range of resources to suit your needs and budget. The party room will typically be set up with themed messy trays, sensory activities, painting and drawing stations and play dough. All you need to do is find a venue! I bring everything required, deliver the session and clear up all the mess afterwards – what could be better?
Having a small garden gathering? Need some extra entertainment for the little ones? Look no further! I can come to set up a play area, leave you to it, then come back to tidy it all away when you're ready.
For more information on prices and availability, please get in touch at bernice@littlelearnersuk.com
Or head to our Facebook page to find out more about what we get up to in our messy play classes in Windsor, Slough and Maidenhead.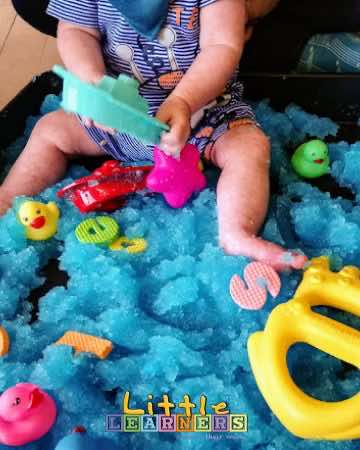 Reviews and Recommendations
⭐⭐⭐⭐⭐
Bernice is kind and fantastic at what she does with imaginative messy play activities set up.
She takes great thought into what she is setting up.
She puts all parents, carers and children at ease during the session and her happy feel good nature makes you want to come back again.
I am so glad we found these sessions after having my little boy as it was a different activity I could join in with new friends and babies to have fun and watch their development.
Reasonably priced too.
Lastly you don't have to clean up any of the mess either. 😊
– Caroline L.
⭐⭐⭐⭐⭐
Such a fun experience for babies with so much colour and texture to play around with. Highly recommend it!
– Kavita G.
⭐⭐⭐⭐⭐
Excellent class! Would highly recommend! My 16 month old thought it was fabulous 🙂
– Penelope
⭐⭐⭐⭐⭐
Highly recommend to anyone looking for a fun learning session for babies.
⭐⭐⭐⭐⭐
Bernice was fantastic! We only found the class when my son ran over to her in the park and started trying to play with all the toys she had put out prior to the session starting! Bernice was very nice and we helped her putting the toys back where they should have been, and explained really clearly what the class was and how it all worked. We signed up and two weeks later we went off for our first session. Again Bernice was a great leader and made the classes really accessible. Jonathan was extremely premature. This has not really had any long term effect other than he is slightly behind on his talking. However, after each class he came away having improved. This has been worth its weight in gold to his mother and I. Thank you so much Bernice!
– Steven
Awards
Teacher of the Year Runner Up in the Little Learners Teacher Awards 2020, voted for by you, the parents!
Thank you so much!!
To view our privacy policy, please click here.