About me
Hello, I'm Aisha! I am very excited to bring Little Learners mark-making and messy play classes to North West Kent!
I am a qualified teacher and have been teaching in Nursery and Reception for over 5 years. I'm a huge advocate of learning through play in the EYFS and the benefits of this to a child's social and physical development. It is by far the best (and obviously most fun!) way to learn. This is what we offer in our Little Learners Messy Play Classes in North West Kent!
I deliver these multi-award winning children's classes in Bexley, Dartford and the surrounding areas.  We're all about supporting children to develop their mark-making (pre-writing) skills through educational messy play, gross and fine motor activities and lots of creativity!
Follow me on Facebook, Twitter and Instagram to be the first to know when you can book onto my upcoming classes!
---
Party Packages
Did you know we offer Little Learners birthday party packages? We tailor these to your needs and your child's interests, whether that be Frozen, Marvel Superheroes or Peppa Pig!
Our party packages combine all the exciting elements of our award winning mark making and messy play classes with a personalised birthday theme for your little one. Our 'cake smashes' are very popular for babies parties!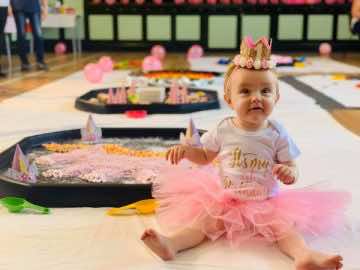 The party room typically will be set up with (themed) messy trays, sensory play, painting and drawing stations, play dough, crafts and dance area.
Your party can be set up at a venue of your choice – with (themed) messy trays, sensory play, painting and drawing stations, play dough, crafts and dance area. We bring everything required, deliver the session and clear up all the mess afterwards.
Parties at Home
We understand that with COVID restrictions many venues haven't opened up yet for your little ones to celebrate their birthdays or simply to have a party just because! That's why in the short term we are offering at home packages.
I'll come to your home/garden and set everything up.
Each family/household can have their own individual station upon request if you would prefer they don't share with other children.
The whole set-up can be themed to your child's interests, e.g. Peppa Pig/Paw Patrol/dinosaurs etc.
You keep tray contents/play dough to re-use as you wish.
Just put all items back in a box and I will collect trays/tools/pens/tarps the following day and take home to clean.
The availability of Parties at Home is dependent on most recent COVID regulations. Please contact me to find out more.
Drop me an email at aisha@littlelearnersuk.com to discuss the party packages, ideas, or any questions you may have.
Workshops for Schools
Coming soon…