About me
Hi, I'm Kate and I live in Ringmer, East Sussex with my husband and 2 children. I currently run messy play classes in Brighton, and Uckfield, although am always looking for new venues! My classes are friendly and welcoming and suit children of all abilities aged from 5 months to 5 years.
I am an experienced and qualified primary school teacher and have taught children aged 2-11 years old throughout my 15 years of teaching. For the last 9 years I have pursued my main passion of teaching children with a range of special educational needs, developing not only their educational skills, but also their social, emotional and physical development.
I LOVE running Little Learners classes and planning lots of exciting, fun and educational activities for your little ones.
Classes are back! Covid-19 safety Measures (Currently postponed until current lockdown ends)
I am so excited to be able to re-start my classes again after such a long wait! We have all worked REALLY hard to make sure our classes are safe and enjoyable for all. Please see our new guidance below …
Key Points
Face coverings must be worn by adults at all times inside the venue.
Please do not come to class if you or any of your household have a temperature or any symptoms of covid-19
Only 1 adult can accompany each child
Small term bubbles, no drop-in classes.
Families should socially distance and make sure there's 1m+ between them and others at all times
The use of Mark Making Tools should be encouraged at each station as opposed to touching the resources or ingesting them.
Obvious edible play will not be currently used in our classes.
There will be anti bac wipes at each station for you to wipe over after/before you have used it.
You should also sanitise your hands between stations.
There will be water at the end of the session to get your child washed if needed.
Please try to refrain from bringing a lot of luggage or bulky items such as buggies into the venue as we are going to have limited space
How will classes work now?
On entering the venue you will pick up a sealed and sanitised Mark Making Tool Kit for your child which will include mark making tools, a ribbon, some play dough, and small hand sanitiser. (Kit content may vary.)
You will sanitise your hands, enter the room and will be directed to a mat/chair to sit on. When everyone has arrived we will then do our starter activity with the ribbons.
After the starter activity you will be free to explore the mark making stations. There will be a limit of 1 family per station to ensure social distancing.
After the session all the used tools need to be placed in a tub for cleaning.
You will return to your spots and give your child a quick wash/wipe down if required.
We will have a quick finishing activity and then leave the room 1 family at a time, collecting your child's sticker and putting it on them on the way out.
I promise we will have lots of fun and continue to learn through play!!!
Messy Play classes and special events in Brighton & Uckfield
I was so excited to discover Little Learners, an ideal way to use my knowledge and skills to help children develop their mark making and pre-writing skills. These fab classes also stimulate children's sensory and social development through messy play and most importantly having fun! I have always been a strong believer that children learn best through play.
These classes not only benefit the children, but it is also a great way for parents/carers to meet other parents, chat and share experiences, in a relaxed environment. All in the knowledge that you are helping to develop important gross and fine motor skills in your children, with the bonus of none of the clearing up at the end!
I look forward to meeting and welcoming lots of new families and having great messy fun with mark-making!
New socially distanced party packages now available. All set up in your garden with separate stations for each family group. Just message me for more details – kate@littlelearnersuk.com
Little Learners Birthday parties are great fun and so unique! Did you know we can tailor our parties to your child's interests and favourite characters, books or TV shows?  We also offer our popular 'cake smash'  tray (for a small additional fee), which make fabulous photo opportunities to mark your little one's Birthday!
The party room will be set up with (themed) messy trays, sensory play, painting and drawing stations, play dough, crafts and dance area.  Our party packages start from £120 for up to 15 children and your party can be set up at a venue of your choice – we bring everything required, deliver the session and clear up all the mess afterwards – what could be better? Smaller parties in your own home/garden can also be arranged.
"Thank you so much for all your hard work! You were fabulous from start to finish, we couldn't have done it without you. The kids absolutely loved your messy play and had a ball! We really appreciate all your hard work and creativity. "
Drop me an email to discuss your ideas and for prices and availability at kate@littlelearnersuk.com
Or visit our Facebook page to see what we get up to in classes
Reviews & Recommendations
★★★★★
"Thank you Kate. You are a very talented, creative, lovely lady. E & I have absolutely loved coming to your classes, having fun, getting messy, learning lots, spending quality time together & getting to know you. Thank you for providing such a wonderful, relaxed setting. We shall miss you & hope to pop by on Thursdays & for Specials. Huge grateful thanks for everything, you are amazing. Lots of love & very best wishes for your continued success. You deserve every happiness. Big hugs from your Hoover Loving Friends! "  Nadine (Little Learners Uckfield  and summer holiday classes August '19)
"I've been going to little learners for a while now with both my children. It's perfect for little ones all ages as they love all the mess and get stuck right in! My youngest has been going since she was a baby and is now 18 months old! I would recommend this for any parents to meet people too and the children love it. Each week there are different things to play with and all the holiday ones are themed! The teacher Kate is lovely too." Natalie (Little Learners classes and events August '19)
★★★★★
"My little boy, nearly two, has grown to absolutely love Little Learners Lewes and Brighton with lovely Kate. He started off completely opposed to getting messy, so stuck to the fine motor skills activities, play dough and drawing. After a couple of weeks he really started to warm to the more messy activities and with Kate's calm enthusiasm and patience ended up painting himself, Kate…and me! He even managed to do some good mark making with his new love of the more messy activities!
I really feel that he has gained a lot from Little Learners, confidence, but also better 'writing' skills, there's definitely now more definition and variety in his shapes when he's drawing. Kate's classes are such fun and we both really enjoy them together."
Alison (Little Learners Brighton class Feb '19)
★★★★★
"We have had a fabulously fun time this term at little learners. Maddison has really come out of her shell and got stuck into every activity, her fine motor and mark making skills have developed in such a short time……who knew learning could be so much fun! Thank you Kate"
Sarah (Little Learners Uckfield class Feb '19)
★★★★★
"Our little girl has so much fun each week at messy play, exploring all the different textures and colours. She's being going to Kate's class in Ringmer for over 6 months and no 2 classes have been the same. So much creativity and effort goes into making each session unique and exciting for little minds. It's a great way for little ones to experiment and explore without having the mess in your own home & is good fun for the adults too !! I would highly recommend Little Learners Lewes and Brighton classes to anyone as well as the special sessions for Halloween and Christmas. Thanks Kate "
Naomi (Little Learners Ringmer class Dec '18)
★★★★★
I have been taking my grandson since the group started in September, although he was only just over 5 months old then he really enjoyed feeling all the lovely new textures….especially the slimy and squishy ones!
The group is very welcoming, and Kate very attentive to all her little learners. It is a lovely safe enviroment for children to learn in. We love it!!
Joan (Little Learners Cooksbridge class Dec '18)
★★★★★
"My 9 month old daughter and I love our Messy Play sessions with Kate! She's so friendly and welcoming, actively encouraging the children whom are all different ages to explore their senses and get MESSY!! It's our favourite class and has given me the confidence to try out different messy play activities at home! We went to the session on The Green in Ringmer and now attend weekly sessions in Cooksbridge- if you and your little person haven't tried it then you're missing out!! I've already got three friends interested in next term so let's hope my daughter and I still get a space!!"
Jodie (Little Learners Cooksbridge class Sept '18)
★★★★★
"What a fab time we had at Little Learners messy play this morning! My 11 month old loved getting covered in beans, crazy soap & paint! Kate who run's the group is absolutely fab & gets everyone involved! Would highly recommend, we can't wait to go again!"  Rachel (Little Learners Cooksbridge class Sept'18)
★★★★★
"My son and I loved the Little Learners event on the green. He got thoroughly stuck in! We've been to a few 'messy play' sessions before but this was even better as it introduced different mark making and the use of fun characters really grabbed his attention. A great way to incorporate some education into an amazing play session giving them free reign to make as much mess as they like! We can't wait to attend again!"  Jenny  (Little learners on the Green Aug '18)
Little Learners Sessions in Schools
Little Learners sessions can be run in schools for nursery and reception children as well as groups of children with a range of special educational needs. I am a qualified and experienced primary school teacher. I have experience of teaching children from 3-11 years old, both mainstream pupils and those with special educational needs. I am DBS checked, first aid trained and hold public liability insurance. All session resources and coverings are provided and set up, tidy up and removal are included. Sessions can be planned to link with current class topics and interests and can be adapted to suit specific needs in liaison with school staff.
 We are really delighted to be able to report that the Little Learners program has been extremely successful since its inception in January 2015. We feel this is due in no small part to the fact that it can be easily differentiated to produce fantastic outcomes in terms of improvements to motor skills, pencil hold and ultimately formation – for babies, preschoolers, Reception pupils and children with additional needs.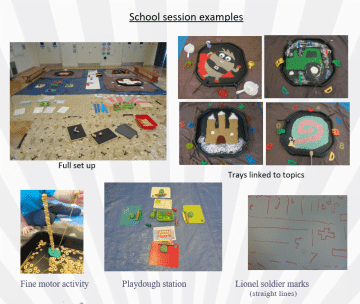 Prices are negotiable and dependent on the number of children and length of session required. Some schools use pupil premium funding to support children with additional needs who would benefit form the Little Learners programme.
Please email kate@littlelearnersuk.com for further information 
"Kate has provided a weekly sensory play session for my class of 11 children since January. The children are aged from 4 – 7 years and have a range of communication and interaction difficulties and additional learning needs.
Kate has been fabulous to work with. She has tailored her standard Little Learners format to meet the needs of our class and to fit in with our topics. The session always includes music, movement and structured whole group mark making, exploratory learning in the sensory trays, independent fine motor activities including playdough, puzzles and mark making materials, group tidying up and a review session.
The sessions have developed the children's sensory play and ability to tolerate different sensations and textures. We have seen this impact upon their willingness to try new activities in the classroom and foods in the canteen. 
The sessions have also impacted upon the children's feeling about mark making and the way they talk about the marks they make. They are much happier to have a go and in the classroom,  they often refer to our mark making characters (Lionel Line/Archie/Ziggy or Swirlo) when talking about their writing.
The sensory trays also encourage and provide additional practise in sharing and developing the language of turn taking. The sessions also provide the perfect setting for introducing and reinforcing a range of concepts such as hard/soft, cold/warm, wet/dry, etc and verb vocabulary, e.g. rolling, brushing, squeezing, etc.
The children love the sessions and often start asking on Monday when their Little Learners session will be!
On a practical level, one of the best things of having a Little Learners session is that Kate brings all the resources that are going to be used that day. She is provides a huge range of sensory resources. Each week the resources change and are presented in interesting and engaging ways. Also, Kate sets everything up and clears everything away at the end of the session. 
We have been very impressed with the richness of the experience these sessions have provided for our children and we hope to continue the sessions next year. "   (Brighton School – July '19)