About me
Hi, I'm Zoe and I thrilled to be bringing Little Learners Parties & Messy Play classes to Harrogate. I live with my partner and my two little ones, Zyla aged 6 and Toby who is now 17 months. I think they are just as excited as me about this new adventure so they can try out all the messy play activities at home first!
I'm a qualified primary school teacher with over 11 years experience, including leading the Early Years department and being a Deputy Head and, as many mums do, I've decided I want to spend more time with my own young family. When I came across the Little Learners franchise it was the perfect opportunity to do just that as well as continuing to develop my teaching skills and my passion for education in a new and exciting way.
These dynamic and award winning classes offer parents the perfect balance of child-led activities which help young children foster their natural curiosity as well as providing a safe and meaningful environment to develop a wide range of crucial skills at the same time.
My Little Learners Messy Play classes in Harrogate offer both you and your little one a special place to bond and have fun together whilst getting to know other families in your local area.
      Party Packages
Did you know that we now offer Little Learners parties! It is the perfect, fun alternative to the usual soft play or children's entertainers for birthdays or christenings. We can tailor the party to suit your child's interests, for example: Peppa Pig, unicorns, football, superheroes, transport, Disney, Pirates etc . . .
Our parties also include a 'cake smash', balloons, party hats and bubble machine!
Where can we hold the party?
The venue choice is entirely yours. You pick the venue and book it and I turn up to host the party. The party room would typically be set up with a variety of (themed) messy and dry trays, sensory play, painting and drawing stations, play dough, crafts and a dance area.
Our party packages cost £115 for up to 18 children – we bring everything required, deliver the session and clear up all the mess afterwards – what could be better? Please get in touch if you have a smaller or larger number of guests. Then you can have some party food after the party whilst I am tidying up.
We also offer a home party package! I love parties at home. This can be as messy (or not) as you want! I can do dry messy trays with drawing and play dough to limit the mess or I can even leave out the mess and just bring craft type activities and play party games with the children!
These parties work particularly well in the back garden when the weather is behaving itself. My home party packages start at £85 for 10 children. If you think you'll have more children then let me know and I can add an extra tray for £10!
For more information, or to check availability please get in touch –
Visit our Facebook page to keep up to date with what we do in our classes.
Reviews and Recommendations
⭐⭐⭐⭐⭐
We've been attending Little Learners since the first session and it's so good I've been recommending it to friends and family! Zoe is lovely, very welcoming and clearly puts a lot of thought and effort into each session. It's been lovely seeing my little boy's confidence grow with each session.
Emily Wilson Boughan
⭐⭐⭐⭐⭐
Would definitely recommend messy play to anyone with young kids, my daughter loves going to these sessions and making as much mess as she can! Zoe is such a kind, friendly person and interacts with the kids. Can't wait for the summer sessions next week!
Jenni Lee
⭐⭐⭐⭐⭐
We had such a fun first session today. Zoe is great and all of the activities were engaging and so thoughtfully prepared. Mari, who usually avoids all things messy even couldn't resist getting involved! Already looking forward to next time! 💚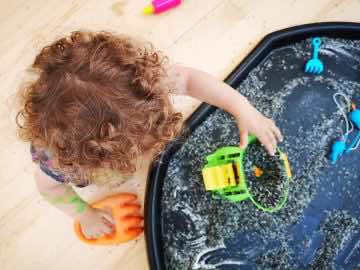 Vikki Pedel -Silverwood
⭐⭐⭐⭐⭐
My 3 year old and I have been attending for more than a month now and she loves it! I was surprised and had thought she might be too old for the program but we have both enjoyed the activities. It is so hard to explore with the various mediums at home and Zoe does such a great job with the variety of options at every class. The set up is the most relaxed a mum can be with a toddler around paint!
Julie Chung
⭐⭐⭐⭐⭐
A fun session with exciting resources and activities, led by a friendly lady xx
Nicola Laycock
⭐⭐⭐⭐⭐
We love little learners. My little girl is almost 3 and asks me every morning if today is "messy play day!" Each week there are different stations to learn at dependent on what mark making characters we meet. The preparation each week is so well thought out. Zoe who runs the group is so friendly and welcoming. All the children feel totally relaxed and the session is totally child led. I highly recommend this group.
Victoria robinson
⭐⭐⭐⭐⭐
My 1 year old loves messy play. I took him to try to get him used to textures and after being the cleanest there during the first session, he is now desperate to start playing as soon as we arrive and he is certainly one of the muckiest!!! It gives me a chance to let him play and get messy without getting it all over the house too.
Each session has different activities, his favourite is definitely the water!
Charlotte Rowledge