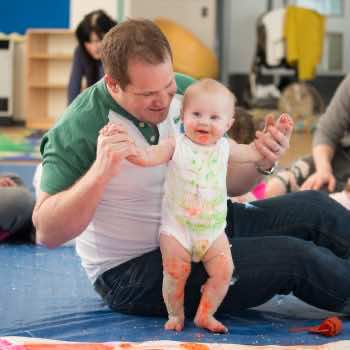 Lisburn & North West Belfast
About me
Hi, I am Fiona and I run Little Learners messy play in Belfast & Lisburn.
I am mummy to identical twin boys who are 16 months old. I love to get them involved in the classes which has allowed them to begin their very own
mark making
journey through Messy Play.
Messy Play Classes – Lisburn & Belfast
I'm a qualified primary school teacher and have 10 years experience in the Early Years. I have witnessed first hand the importance of providing young children with a wide variety of early mark making experiences and opportunities to explore through play in a
fun, safe and engaging
environment. So, here at Little Learners we use our very own '
Mark Makers
' characters to encourage children to get involved to develop their motor skills through early writing.
As a mum of two babies, I value and appreciate opportunities to take part in fun activities together where we can make special memories. The Little Learners classes are the perfect way to give parents the chance to do so with their children whilst learning important skills to help them make their mark! Also develop into confident writers all taught through Messy Play.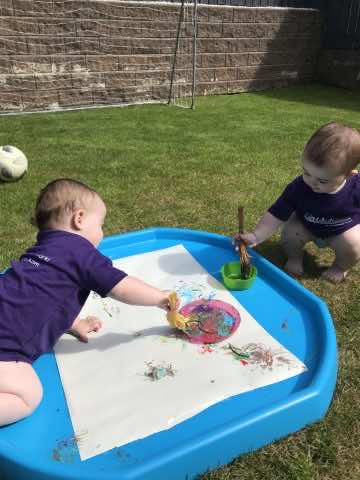 Why not join the waiting list and try one of our classes in Lisburn or Dunmurry once it's safe to do so?!
Visit our
Facebook
page to see what we get up to in our messy play classes.
Messy Play Parties
Since e
very day is a special occasion at Little Learners…I am now providing garden parties.
Have you got a special occasion coming up?
Perhaps your little one celebrated their birthday during lockdown and wasn't able to have a party with their friends.
Or maybe you just want to celebrate being around family and friends again!
Little Learners Lisburn is now taking bookings for outdoor parties!
I'll come to your garden and set everything up.
Each family/household can have their own individual station upon request if you would prefer they don't share with other children.
The whole set-up can be themed to your child's interests, e.g. Peppa Pig/Paw Patrol/dinosaurs etc.
You keep tray contents/play dough to re-use as you wish.
Just put all items back in a box and I will collect trays/tools/pens/tarps the following day and take home to clean.
Option to add a messy play bundle for an additional charge that you can keep with Zimpli Kids & Crazy soap products.
Reviews & Recommendations
★★★★★
The best class in town!! My daughter loves all the classes and it's great for her to start mark making from an early age! So many different activities and I love seeing her making a complete mess and enjoying herself! Fiona is so so lovely and makes sure every week is amazing for the kids. Thank you so much xx – Clare
★★★★★
I attend these classes with my little girl. We really look forward to Saturday mornings so we can get messy and do some mark making! The class is taken by a Fiona who's a teacher and follows a programme with the four mark making characters. It's child led so they all work at their own level and understanding. My daughter has grown in confidence since we started going to LL and she gets to explore and express herself through her play. She really looks forward to getting a mark making sticker at the end of class and has a real sense of achievement and pride. Best part is I don't have to clean up the mess! – Francine
---
For further information, contact me via email: fiona@littlelearnersuk.com