Event details
What is a Messy Play Party?
I love hosting Little Learners parties! It is the PERFECT, fun alternative to the usual soft play or children's entertainers for birthdays or christenings. Did you know we can tailor our parties to your child's interests and favourite characters too?  A 'cake smash' party is very popular and we have catered to themes such as Peppa Pig, Unicorns, football, Marvel Superheroes, dinosaurs and CBeebies. You could even theme it around your child's nickname or favourite toy. You can be as creative as you like or leave it all to us!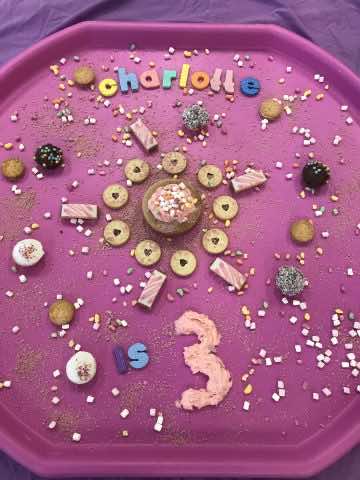 Where can we hold the party?
The Venue choice is entirely yours. You pick the venue and book it and I turn up to host the party. I can give you names and numbers for venues I have been to, if you need some suggestions. The party room would typically be set up with a variety of (themed) messy and dry trays, sensory play, painting and drawing stations, play dough, crafts and a dance area.
Our party packages start from £135 for up to 10 children – we bring everything required, deliver the session and clear up all the mess afterwards – what could be better? For an additional £20 I can do a cake or cake smash tray and photograph it all for you! You might want to do some party food after the party whilst I am tidying away too?
We also offer a home party package! I love parties at home. This can be as messy (or not) as you want! I can do dry messy trays with drawing and playdoh to limit the mess or I can even leave out the mess and just bring craft type activities and play party games with the children!
These parties work particularly well in the back garden when the weather is behaving itself. My home party packages start at £95 for 10 children. If you think you'll have more children then let me know and I can add an extra tray for an extra £15! As you can see from the pictures below, we can fit in pretty much any little space!
If you are interested in finding out more then please do email me at holly@littlelearnersuk.com, ring me on 07932378766 or check me out on Facebook or Instagram (search Little Learners Southport).
Once you have decided to go ahead with the party then you can pay your £30 deposit below. The deposit is non refundable as I will reserve that date for you.
Holly xx