Event details
Award-winning Little Learners Mark Making & Messy Play Bramhall classes for babies, toddlers and preschoolers; encouraging mark making and learning through play!
Join us for a special Valentine's Little Learners messy play session in Bramhall on Thursday 14th February! It's at 10-11am at Fir Road Scout Hut, Bramhall, SK7 2NP. 
The session will include Valentine's themed messy play and card making!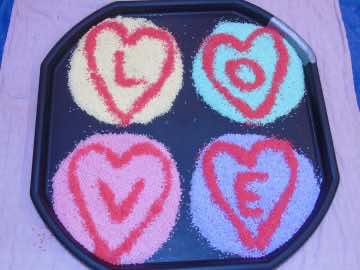 Are you ready to get messy in the paint, gloop, sand, play-dough and many other exciting materials?!
Little Learners is a unique and fun approach to early writing for babies to preschoolers from ages 5 months to 5 years. We help your child recognise and make marks and begin to form letters, numbers, shapes and patterns. We learn through play whilst strengthening core muscles and developing gross & fine motor skills.
This class is ideal for siblings to attend. Resources and activities are differentiated to suit the specified age-range. Sibling tickets can be purchased at half-price when buying a full priced ticket.
Any questions or more detail just drop me an email: katie@littlelearnersuk.com
To book this event just complete the form below.