Event details
 What is Messy Play & Mark Making?
Little Learners Southport deliver the best Messy Play & Mark Making Classes around! Little Learners is a multi award winning business with franchises across the country. For the past two years we have been teaching babies, toddlers and preschoolers at a fab venue in Southport, every Friday.
At Little Learners we teach early writing skills through messy play. We also give parents an insight into the foundations of early years education.  At our classes, children are taught our unique programme: 4 different marks and characters are introduced and children will learn to make them.  We combine play and early writing in a fun, creative and informal way.
Because our class is child led, it is so relaxed and fun for both children and parents. You can take the class at your own pace and not have to worry about keeping up with a teacher or having your child wait for their turn. Sit back and watch them explore the textures and learn to write and use tools.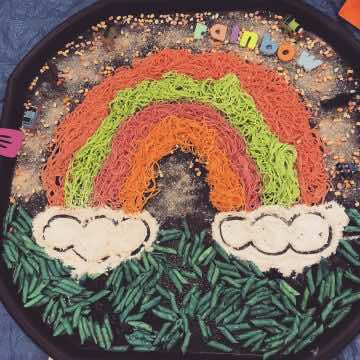 Who are we?
Little Learners originated in the North East of England 4 years ago. It has quickly become the biggest messy play company in the country and is now number 37 on the top 100 franchises in the country! Incredible! It was created by Rachel Fay, an early years teacher with a passion for early writing.  Our classes are run by Holly Benn, a qualified primary school teacher with over 10 years of teaching experience. Holly is the owner of LL Southport and LL Preston & Chorley and is passionate about children and early learning.  You can contact her on her email holly@littlelearnersuk.com or phone 07932378766 if you have any further questions. Alternatively you can find us on Facebook, Instagram and twitter: just search Little Learners Southport.
When is it?
Why not come along and try us out? Join us every Friday, 2pm at Argyle Tennis Club, Southport for our award-winning messy play and mark making class! Suitable for ages 5 months to 5 years. Ours is the perfect class for siblings to attend together and sibling tickets are half price when bought with a full price ticket.


Where is it?
Argyle Tennis club in Southport is a fab venue with free parking (if you haven't been before – just look for the tree with the faded yellow ribbon around it on Argyle Road – the entrance is just next to it!) There is a ramp to the far right of the building and you can safely leave prams, bags and shoes just outside the studio in the main lounge.
So why not come along to our award winning messy play classes and see what we're all about? Let your child make their mark in the paint, rice, gloop, sand, play dough and much more and then let us tidy up afterwards! What could be better?
To book your place on Little Learners Southport Messy Play classes, please fill out the booking form below: