Event details
What is a Spooktacular?
If you haven't been to one of our AMAZING weekend events yet, then this is a brilliant one to cut your teeth on! (Or should that be fangs, mwah ha ha haaa!) Our Messy Play Halloween events are always a sell out and brilliant fun. We have all of our usual messy play activities from our classes such as cereals, biscuits, slime, foam and glitter. At Halloween we turn it up a notch too and add some pumpkins into the mix!
What happens at one of our events?
Our events start with a quick warm up where we get the children up and moving with some music and some dance scarves. At little learners we are passionate about mark making so we love to get children using their whole bodies to make shapes and marks. We will have lots of messy play trays, painting pumpkins, playdoh activities, crafts and drawing. Even if your little one doesn't do "Mess" – fear not – there will still be plenty for them to do. And who knows, maybe our fun and exciting Halloween party will make a convert out of them! At the end of our session we will have tubs of warm water for a quick wash before home time.
When and Where is it?
This is our 3rd annual Messy Play Halloween Spooktacular and this year we have moved venue to Birkdale St John's Church Hall.  This will be our biggest Halloween event yet so we needed a bigger hall. We'll have even more Mess, more pumpkins, refreshments and cakes on sale, glitter face paints AND a special visitor. None other than PEPPA PIG herself will be dropping by to see us AND she will be dressed up for trick or treating. Peppa told us she's dressing as a Ghost this year, so please feel free to dress you little ones up too!
Who is it for?
Our events, like our classes, are aimed at the under 5s. However, at our weekend events, older siblings are very welcome. Children aged 6- 10 can come along with a younger sibling (please purchase an "older sibling" ticket for just £3). Siblings under 5 can come half price at just £4.  All children will get the chance to meet Peppa and get a picture with her AND there will also be Halloween Playdoh to take home with them too!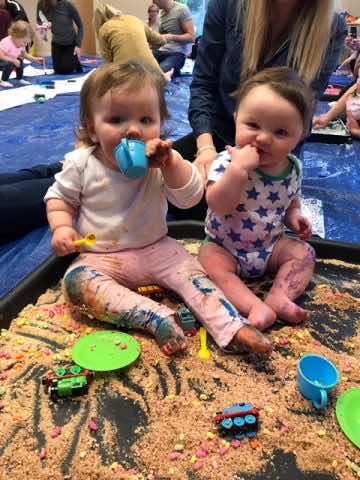 Messy play is a really brilliant activity for all children. Even children with sensory issues such as SPD gain and benefit from some messy play. To read more about why messy play is a brilliant activity for young children, read my blog here:
This event is now sold out. To be popped on our waiting list or be informed of any other Halloween events we have coming up, please email holly@littlelearnersuk.com