Event details
 What is Little Learners Messy Play & Mark Making?
Little Learners is a multi award winning messy play and mark making company with over 30 franchises across the country. Mark making is at the heart of our mission and what we focus all of our messy play classes and activities on! We are passionate about messy play for many reasons: it is fun, educational, good for physical development and is a fantastic bonding activity for parents and children too!
Little Learners Southport deliver the best Messy Play & Mark Making Classes around! Our terms in Southport have been so popular and always sell out and now we're in Formby too! Little Learners is a multi award winning business with franchises across the country.  At Little Learners we encourage children to make their mark and learn through play. We also give parents a glimpse into the foundations of early years education.
What are the benefits?
One of the many brilliant benefits of messy play for both parents and practitioners is that Messy play is very much child led. We might set up the trays for them, but then it is totally up to the children how they play. This takes some pressure off us and allows them to develop their imagination. Therefore we gain valuable insight into their preferences and see how their little minds tick. Some babies love to just slide around in the mess, some like to use their toes and others love to use tools to make marks.
It is our view at Little Learners that the more that children have fun mark making and developing their motor skills, the more prepared and confident they will be when it comes to writing at school. In our mark making programme our four Mark Maker characters represent the four main marks that help to make up all letters, numbers, shapes and patterns: a straight line, curve, circle and a zig-zag. They often pop up in our classes, especially in our trays!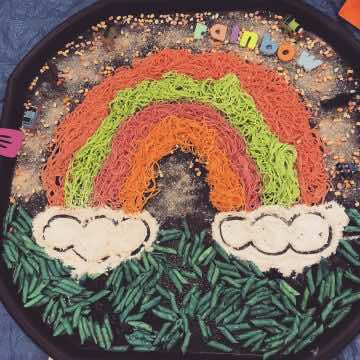 Who are we?
Little Learners originated in the North East of England just over 3 years ago. It was created by Rachel Fay, an early years teacher with a passion for early writing.  Our classes are run by Holly Benn, a qualified primary school teacher with over 10 years of teaching experience. Holly is the owner of LL Southport and passionate about children and early learning.  You can contact her on her email holly@littlelearnersuk.com or phone 07932378766 if you have any further questions. Alternatively you can find us on Facebook, Instagram and twitter: just search Little Learners Southport.
When is it?
Why not come along and try us out? Join us every Monday, 10.30am at Formby's Methodist Church Hall for our award-winning messy play and mark making class! Suitable for ages 5 months to 5 years. Ours is the perfect class for siblings to attend together and sibling tickets are half price when bought with a full price ticket.
This term runs for 5 weeks but we allow 6 weeks for you to take your 5 classes over, as we understand that you may not be able to make it to class one week due to sickness or holiday. This extra class can be taken in another term of your choice.
You must inform the class teacher if you are missing a class and wanting to carry it over to the following term.


So why not come along to our award winning messy play classes and see what we're all about? Let your child make their mark in the paint, rice, gloop, sand, play dough and much more and then let us tidy up afterwards! What could be better?
To book your place on Little Learners Southport Messy Play classes, please fill out the booking form below: (Bookings open Wednesday 13th Feb at 8pm)