Event details
Little Learners Northumberland are excited to announce another Saturday Messy Play & Mark Making Term.
Come and spend some time with your little ones on the following Saturday's at Beaconhill Community Centre 10-11am.
27th April: Does your little one LOVE to paint?
 Usually at Little Learners we have a lot of messy play with a bit of painting but this session we're going to mix things up and have a huge painting session!! 👩🏻‍🎨👨🏼‍🎨
We will have paper on the walls and floors for children to practise their Marks and express themselves in anyway they like! 
Wether they use brushes, rollers, sponges, hands, feet or scrapers it's up to them!
Each child will be given a small canvas, piece of card or paper whichever they chose to make their masterpiece on and take home🎨🖌
Discover their inner Michelangelo, Da Vinci, or Van Gogh! 
11th May: I've signed up to Action for children's 'The Giant Wiggle 2019' which is a fundraising event to get kids active and learn about healthy eating. We'll be linking this to our Marks by dancing them with our bodies as well as our usual ribbons and there will be healthy eating and 'The Very Hungry Caterpillar' themed trays and activities. I'll be donating £1 from every ticket sale to Action for children & would encourage you to try and fund raise before event with a prize to whoever can raise the most money! To find out what Action for Children will use the money towards click this link- Action for children.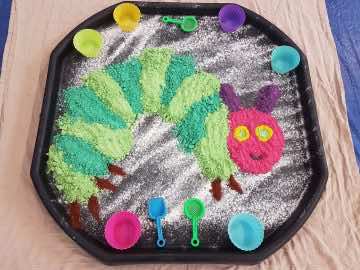 There'll be a variety of wet & dry trays at every event as well as crafts and keepsakes to take home. And our usual fine motor stations too.
Little Learners is aimed for children aged 5 months- 5 years but at our weekend family sessions older siblings are invited along too.
What do I need to bring?
Please make sure you and your child are wearing old clothes or clothes you don't mind getting messy in. Some parents like to strip their child down to their vests. Little Learners takes no responsibility for clothes which are stained, marked or damaged.
Make sure you remember to bring a change of clothes for your Little Learner (and you!), a towel as we provide warm soapy water to get washed in at the end.

Safety
Parents/Carers are solely responsible for their child/children at all times during Little Learners classes; for example, although care is taken to ensure materials used are non-toxic, parents/carers should take sensible precautions to ensure that materials aren't ingested. Please be aware that some activities involve materials which can become slippery so extra care must be taken.
Don't forget to like our Facebook page to keep updated with all upcoming events.