Blog,Longfield & Sevenoaks
11/10/2022
Coloured chickpeas make an awesome sensory base, with rich colours, bumpy round shapes and extra weight they certainly stimulate the senses!
For the Little Learners who come to my classes, chickpeas are without doubt their favourite activity, I like to refer to them as 'Rice – Upgraded'!
Due to their extra weight, they make such an amazing PLINK sound when dropped onto the tuff trays. They're so much more tactile than rice and because of the size of them, they can be easily sorted by colour too!
You can purchase cones of sensory chickpeas by popping me an email at helen@littlelearnersuk.com, don't worry if you aren't local to Sevenoaks, I can pop them in the post to you!
Or you can make your own! Here's my step-by-step guide to making your own rainbow chickpeas!
Ingredients:
*Dried chickpeas (these can usually be found in the 'world food aisle' in your local supermarket)
*Non-toxic poster paint in your choice of colours
*Zip lock sandwich bags (one per colour)
Method:
Step 1. Evenly distribute your chickpeas between the sandwich bags
Step 2. Squirt plenty of paint into each bag, don't be stingy, you want them well covered!
Step 3. (Otherwise known as the fun part!) Zip close the bag, then shake, squish and generally smush the chickpeas and paint around the bag until they are evenly covered in paint (add more paint if you need to).
Step 4. Open up the bag again and let dry for about half an hour, then you want to give the chickpeas a bit of a squeeze to stop them all clumping together. Then leave the bag open over night to dry completely.
And that's literally it! Now you can put all those little gems into your tuff tray, or a baking pan and add whatever other toys and tools you want to, and let your Little Learner loose on them!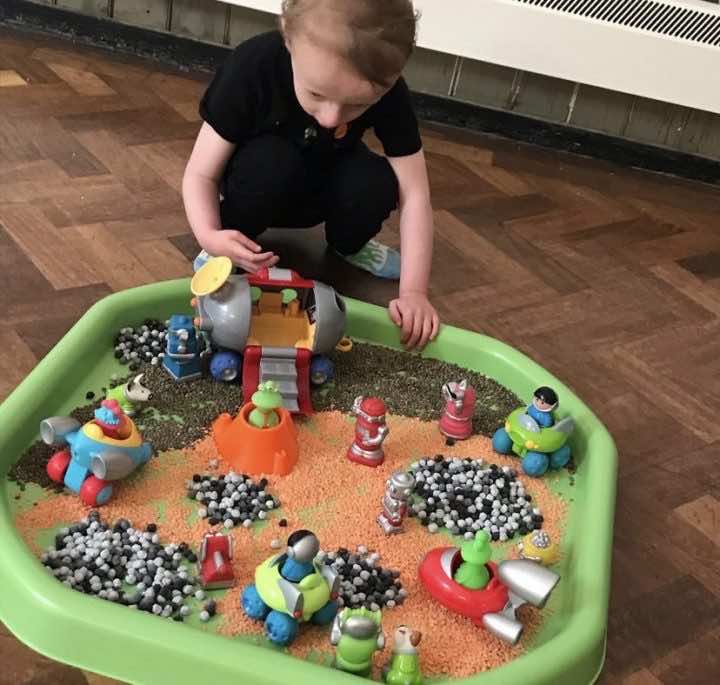 Chickpeas are great for scooping, pouring, counting, sorting, flicking and rolling! The possibilities are endless! And the best part? They last for ages! They store perfectly in a zip lock bag or container and can be brought out again and again. If the paint starts to chip off, you can just paint them again!