Blog,Windsor, Maidenhead & Slough
26/04/2020
Mark making – if you've been to a Little Learners class you might hear us go on about it quite a lot! Mark making is literally what it sounds like: making marks. In the early years it leads to well-developed hand muscles and coordination, which results in confident writing and drawing once children are at school age.
So how do you get your child mark making if, like my little boy, they have no interest in using pencils and crayons on paper? What if, like my little boy, they would rather pretend to be a drill and make holes in the paper with the felt tips rather than draw? (We've gone through a lot of felt tip pens in my house…)
Luckily, there are plenty of ways to make marks. You can use any tool, be it a finger, stick or piece of cheese – on any surface, be it paper, a window, wall or tuff tray! Now I know we don't want our kids going around rubbing cheese on the walls, so here are a few more reasonable ideas for mark making activity ideas:
Drawing in sand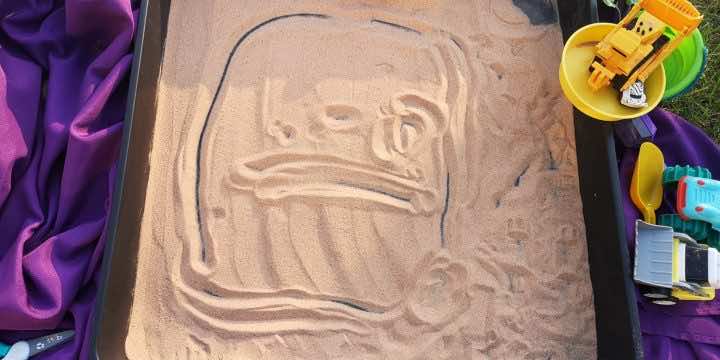 This keeps us going for ages. If your little one uses their finger there's a lovely sensory aspect as they feel the texture of the sand. There's also fun to be had in finding different objects to make marks with. Instead of sand, you can also use salt in a tray.
Chalk on the pavement
Chalk is lots of fun as it can be used on many different surfaces. Children can have fun experimenting with which surfaces they can make marks on. Drawing on the pavement or paving slabs is lovely because it lasts a while and your little one can see their artistic contribution to the house or neighbourhood!
Making marks in paint
Not the same as painting – if you or your child slathers on a layer of paint on paper or any surface, then they can choose a tool to 'scrape' the paint and make marks in it. We've found a straw very effective for this but you can use anything really, be it the end of a paintbrush or a fork. Simple, a bit messy and fun!
Ice painting
Love this one on a sunny day outside! You need to prepare it the day before but it's easy to do. Pop some water or coloured water into an ice cube tray, muffin tray, any containers you like, stick in some random objects (I like to use small toys like animals, pirates, you could also use straws, leaves, flowers) and freeze. When it's ready, your little one will have a blast watching the ice melt, making marks with it on all kinds of surfaces and getting to the objects inside.
Give these mark making activity ideas a go – enjoy them with your children, and I hope they help your little learners make their mark!
Check out our YouTube Channel for more mark making ideas like these!