Blog,North Tyneside
17/11/2017
I'm writing this blog to celebrate Little Learners Messy Play and the skills it teaches our children. My story is just one of the many about the confidence and skills that Little Learners classes have brought to me and my family. It just so happens I've been super lucky to become a Little Learners franchise owner and now provide these classes for more children to mark make and get messy in North Tyneside.
Back in September 2017 whilst on Maternity leave, I was looking for some new baby & toddler class to join now my baby was getting a little too big for all the groups we were part of and because she was making an attempt to crawl we needed to find something more active. As a nursery nurse, Messy Play has always been a big part of my work. Encouraging children to learn through play and make their own creations. That's when I found Little Learners, even better the first event I had found was outdoors in the park!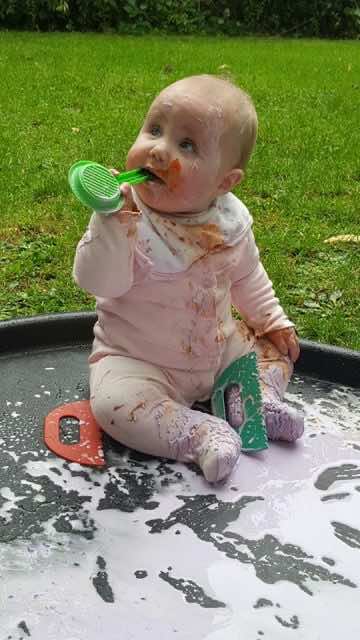 Little Learners Classes & Events!
At Little Learners in the Park, the day started off with some dodgy looking clouds and ended in torrential downpours but that didn't wipe the smile of either of our faces and if anything it made it just that little bit more fun!
I couldn't wait to get booked on to our first term! When we first started she wasn't too sure of it all. She loved her food and got very messy feeding herself but didn't like sitting in the jelly, I couldn't understand. The more I thought about it, I had just walked up and plopped her into a cold tray of jelly bottom first. No wonder she wasn't happy! She cried in the wet trays and really didn't like the wash tubs at the end but with each class she became more confident and cried less as time went on. I began sitting her at the side after the first few sessions of tears to let her become familiar with whatever we were mark making that week before putting her in fully. She quickly grew in confidence and the wash tubs soon became her favourite party!
Once the first term was over she was becoming more confident and we were making more new friends in a very friendly environment so I knew we had to come back for the next term. Jenna was such a lovely teacher. This term I began leaving just as messy as my baby was! We were having a great time. It was great watching her confidence grow with new people and also the way she was beginning to explore the materials with her hands and body. There was still a lot of exploring with her mouth! As time went on she began using more tools in her mark making. I remember the day she picked up the paint brush and rather than sucking it like a lolly pop she started making marks on the paper! Next she began showing more of interest in the pens and pencils and began bashing them on the paper to create marks. She wasn't even one yet! Its amazing how quick they pick it up isn't it? She also stood up independently for over a minute during one of the classes something she had never even attempted even at home, it was totally out of the blue! I was over the moon!
At 20 months she is already able to use play dough tools when exploring the play dough, paint marks with a paint brush and is beginning to hold her pencil between her thumb and two fingers in a tripod grasp to make marks on paper. Don't get me wrong her favourite thing to do at classes has always been and still is painting herself and making sure my arms have been soaked in paint too. Before taking over Little Learners North Tyneside we attended Jenna's sessions every term and made lots of friends over the year but most importantly she gave her the opportunity to explore, get messy and make her mark! If your reading this Jenna, Thank you! I hope I can carry on in your footsteps and teach these Little Learners lots of new skills too!
Little Learners has already taught her so much and I cant wait to see all the other new skills it brings her. These are just some of the skills she has practised and these statements link to the current EYFS guide lines for development around her age group:
Makes connections between their movement and the marks they make.
Squats with steadiness to rest or play with object on the ground, and rises to feet without using hands.
Shows control in holding and using jugs to pour, hammers, books and mark-making tools.
Beginning to use three fingers (tripod grip) to hold writing tools
So that was just a little bit about why I love Little Learners! I hope you will come and see the benefits for yourself, everyone is welcome! Find our more about by North Tyneside classes here.
Toni x