Your second baby changes everything! Read some of the things people don't tell you and some tips for making your new family-of-4 run a little smoother.
Sort of.
Where did my pregnancy glow go?
I should have known how crazy different life was about to get when I had my second baby by how crazy different pregnancy is with your second. When you're pregnant with your first, everything is idealistic and romantic. My hospital bag was packed by 35 weeks, my birth plan was laminated, my nursery was instagram and pintrest perfect and I was cool and calm thanks to my long lie ins and weekly sessions of pregnancy yoga and meditation. Second time around there was no yoga; there were no lie ins and I think I packed my hospital bag the morning I was induced. When my midwife had asked about my birth plan I think I just laughed and said I'd be sending Rob for a maccies because hospital food is rank!
Ouch!
Also… I was in PAIN! I ached all over! My hips were in agony and my legs were swollen up like balloons. Two pregnancies and wiping up toddler piss and food crumbs off the floor had taken it's toll on me. I was also 3 years older now, yet somehow my body had actually aged 10! In addition to my body failing me, I now felt like I'd forgotten everything too. How do you swaddle again? What temperature should their room be? Ahhhh! Anyway, life felt like it was about to go up a gear but I was mostly quite Zen about it all. I'd done it once and survived (just!) so the chances were I could probably do it again.
Having your first baby changes your life immeasurably and I really found it hard to see how a second baby could turn things any more upside down than they already were. My washing basket was ALWAYS full, my solid 8 hours sleep a night had shrunk to around 6 (if lucky) and regular little trips to the cinema or meals out were now few and far between. But I really couldn't wait to expand our little family and give Noah, then 2, a little sister so I casually shrugged off any comments about how 'harder' it was with two. I was prepared for this second baby to slot straight in to my crazy beautiful life as if she'd always been there.
Enter baby number 2 a few months later!! Well, you might as well have dropped a bloody bomb into my washing basket!! It was no longer full, but OVERFLOWING! All. The. Time!! How the hell did adding one extra tiny 7lb person, DOUBLE my washing overnight? That 6 hours sleep I used to get… oh how I missed it! Sob. I'd forgotten how hard those cluster feeds were! And nights out? Well… it would be a while before anyone would want to babysit a newborn AND a toddler wouldn't it? (insert face palm emoji here!) Not that I wanted to go out anyway – X factor and a take away was far more appealing.
Life will never be the same again.
Despite all of the chaos, amongst all of it is the memory of holding Marley in my arms in those moments after she was born and just knowing that this was what life was all about. Bringing Marley home was literally one of the best moments of my life. I looked at her in our home with her big brother next to her and knew that my life was totally complete. When I had brought Noah home from hospital I just sort of waited for him to wake up and stared at him as he slept. When I arrived home with Marley I immediately started making Noah's tea! I had her cradled in my arm whilst I popped the kettle on and opened various jars and packets. I popped her in her basket when she fell asleep or passed her over to Rob to hold – this was in stark contrast to how I had been with Noah; I don't think he left my arms for the first week! I was far more chilled with Marley and actually she really did slot in to our well-oiled machine.
Chill out!
That brings me on to a really important and gorgeous change with your second baby… You are so much more chilled about everything! You will soon find first-time mums, with their well meaning but misplaced anxiety and worry, absolutely drive you nuts. You won't believe you were ever that girl at baby massage talking about the colour of her baby's poop for 10 minutes. 2nd time around, you just get on with it. If your baby hates your boob – you give them formula! They don't like tummy time – so what? If they aren't crawling yet, you don't care – you know they will. Their red book will be half empty and you'll have no idea what they weigh and you're not arsed! Ok sometimes you are but then your toddler sneezes on the baby and you forget. You are a lot kinder to yourself 2nd time around because you know that the small stuff you sweated the first time, really doesn't matter. Spaghetti on toast is a perfectly acceptable toddler tea 2 nights on the run and watching Peppa Pig at 8.30am never killed anyone.
Get organised or go under!
All that being said, you really do have to get your ducks in a row with your second baby because you quickly start to find the cogs coming off if you don't. You can be chilled and zen all you like but the washing won't do itself and you now have a toddler to juggle with that hungry newborn. Come on girl, you need to have your shit together. Here are some things I have tried over the past year or so to help our family of 4 run a tad smoother… My house is still a mad one and I do look forward to a glass of wine some nights when it's all gone wrong and they've tag-teamed me – but these tips do help!
A simple one but a genius one… Have your food order delivered! Asda have an unlimited delivery pass for £5 a month. This has been a genuine life-saver for us! I would do my online food shop at 3am sometimes whilst feeding Marley. I know it's an extra £5 when money is already tight but you don't spend as much online as you do at the shops, so really you save money in the long run!
Re-organising the kids drawers. Ok, I am not some organizational space-saver expert but this is absolutely BRILLIANT for being able to find things quickly! I saw a woman do it on TV and thought I'd try it and a year later every drawer in the kids rooms is still organized like this! It takes an extra 5 minutes to fold their clothes and saves a lot of time when searching for your favourite outfits!
Have a hall 'bag and shoe box': This seems so simple but it really has helped us. The children go straight to the box (well, table in our case) and put their shoes away or get them out ready for nursery. I was forever searching in the morning for missing shoes or nursery bags. This is almost a forgotten bad dream now!
Get a Key hook! If you don't have one, bloody get one! I could honestly cry sometimes searching for my lost keys. Just as I had both kids ready they would magically disappear to the bottom of a nappy bag or I'd accidentally put them away in a drawer! This has been a massive help to me. Sounds stupid but when you have 2 kids and a hand-full of bags you don't always pay attention to your keys!! Sigh!
Have a breastfeeding/ bottle-feeding toddler box. One of the hardest times for me would be feeding times whilst home alone with both kids. As soon as I'd settle down to feed Marley, Noah would chirp up with something he just HAD to show me or ask me or he'd have lost his favourite toy or desperately need a drink. To save your sanity, fill a box with toys, snacks, juice bottles, an ipad, books, playdoh… whatever it is that will be a treat for your toddler during that 20 minutes that you're tethered to your newborn. Make it a special, treat filled box that they will be genuinely excited for!
6. Get clothes out the night before – again – sorry if this sounds stupid to some of you but this has really helped us. Noah started to recognise his clothes on his drawers as being his clothes for the day and actually started to put them on himself when he was about 3 ½. Now, aged 4 he gets dressed himself every morning. (Ok that's a lie – sometimes I have to wrestle him into his undies but mostly he does it himself… VERY slowly!)
Don't feel guilty over your first born! It's so easy to worry and think they will feel pushed out and sad but they will adore having a sibling. Plan a baby date with your toddler when your newborn is a few weeks old to show them you're still theirs too. This isn't really an organisational tip but it does help life run a bit more smoothly as you feel like you're giving your toddler some quality 1:1 time! Some days I felt like Noah hated me and I'd ruined his life by bringing this tiny, pink, loud thing into his life! I decided we needed some bonding time and let him choose a day out for us and off to the Blue Planet aquarium we went. Much needed alone time away from the crying baby was perfect for both of us and it really is a day I will always remember.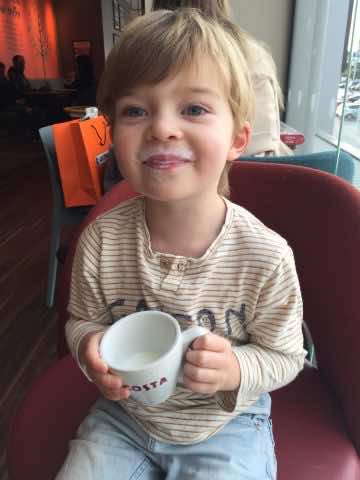 My last note is about a word some people LOVE and some HATE: ROUTINE! It is the key to organization as far as I'm concerned! Kids LOVE routine and as a mama and teacher, so do I! We have a set routine for bed and bath every night, which really helps when I'm doing a double bath and bed by myself. My routine is this: They have their bath together (get a baby bath that the toddler can sit behind in the bath) they share an ipad whilst I dry their hair; then Noah reads a book in his bed whilst Marley has her bottle and bedtime story in her room (or he would watch the ipad when he was younger!) Finally I go into Noah and read him his bedtime stories. I'm lucky that mostly I have Rob at home of an evening to share bedtime with me, so we each take a kid to read bedtime stories to and we alternate each night! (We've also got him a gro clock which is just amazing! I couldn't recommend it highly enough if you have an early riser! He has gone from waking at 5.30/ 6am to waking at 7.30!)
All of these little tips have evolved or been adapted from ideas from other people and really do work great for us. We've tried some things that haven't worked so well and we've scrapped them. It's all trial and error and you have to accept that some days you'll make mistakes and you will struggle before it all starts to slot together. But remember you've done it all before and made an amazing little human! They must be amazing or you wouldn't have bloody done it again.
Also you've given your kid a sibling!! This is the best gift you could ever give them. They have a built in friend and play mate for life in their sibling. I am now at the stage where our two play together and entertain each other and it's just AMAZING! Not only is it hilarious and heart melting to watch but it frees you up for a rest and a hot drink. Soon enough it will buy me a lie in because they'll wake up and play with each other rather than jumping on my head and demanding Peppa pig… and when that day arrives I'll pat myself on the back and enjoy my hot coffee because I will have earned it!
Holly, LL Southport xx