This week's Little Learners Stockport classes are inspired by 'Room on the Broom' by Julia Donaldson. Children love this story and it fires their imagination. It's great to fit in with a Halloween theme too.
We played in coloured rice – orange, green and purple. This was coloured with a little gel food colouring. The rice was added to cauldrons and we added items from the story: pine cone, stick, bone and lily. Little ones stirred their cauldrons and potions , practising the 'magic mark' of the week – circles and swirls.
We made marks in coloured sand using wands and brushes. Lots of potions were made in potion bottles and bowls. Little ones love to add different materials to a potion and stir it up. We used oats, lentils, rainbow drops and rice. We pretended to be the bog monster in the chocolate gloop! Along with cauldrons, potions, wands and a muddy bog, we also painted with broomsticks made from spaghetti!
So how to make the Room on the Broom sticks – they are very easy but are for adults to make, then the kids to play with because you have to half cook the spaghetti.
1. Take a small amount of dry spaghetti, maybe 20 pieces. Tape them together, leaving around 10cm at the end free. I used a bit of masking tape.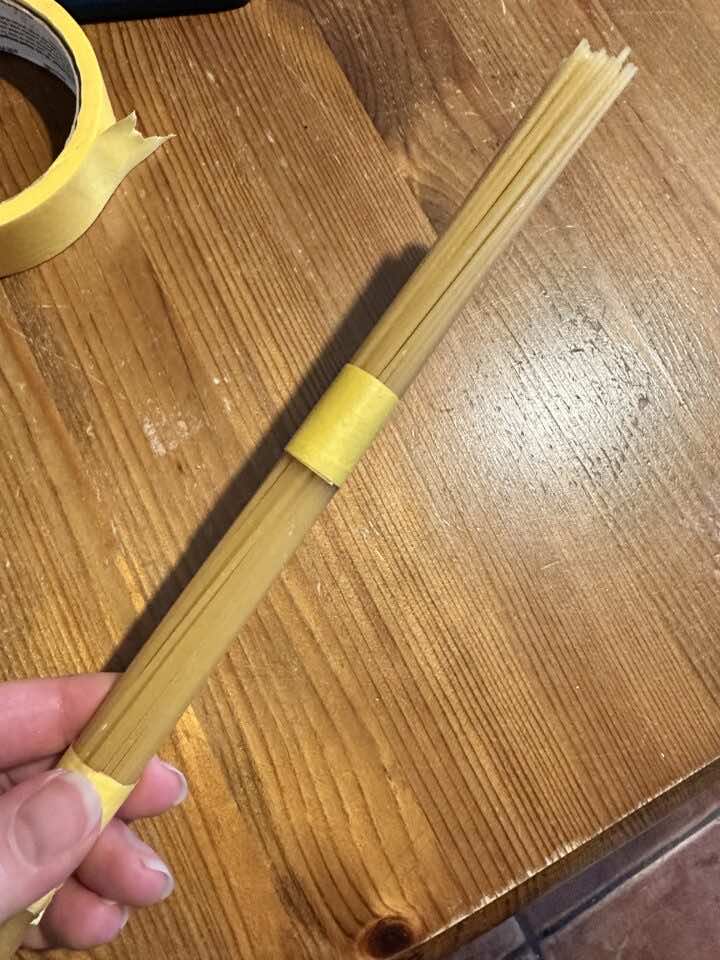 2. Dip the free end into boiling water for 2-3 minutes. Keep the rest of the taped spaghetti dry. You could add food colouring to the water for multicoloured brooms.
Once they are cool, little ones can use the 'broomsticks' for fun Halloween painting! Pretend to be the witch and make some marks!
This little learner loved painting with their Room on the Broom broomsticks! These are great for trying mark making with different textures and tools. Why not have a go – a different idea for Halloween! Let me know how it goes.
Happy Halloween!