Hello summer!
Just a quick blog from me on the absolute joy and ease of painting in the garden during this glorious sunshine we're having! My kids LOVE painting and I'm always running out of excuses for not painting in the house! (Oops!) But today when Noah wanted to paint I just took him outside and it was SO easy! There was hardly any cleaning up and I could lie on the grass and catch some rays rather than hovering over him with a baby wipe!
Okay.. small disclaimer.. when I said 'hardly any clean up,' I wasn't talking about HIM; I was purely talking about the fact that I didn't have to wipe anything up off tables or floors! He covered himself in paint! Obviously!
So here is my shopping list for a super easy outside painting session:
Big sheets of paper – the bigger the better;
Sheets of newspaper to protect the grass from the worst of it;
Some washable paints – mine are from YPO but they sell it in pound shops and even Asda and Tesco usually stock it. I have a little art paint pot, but some disposable paper plates are even easier – no washing up!!
A selection of painting tools really does keep their imagination for longer – I had some sponges (again, from a pound shop) different sized paint brushes (the Range) and some paint rollers of different thicknesses and textures (YPO online)
Select an area of grass for them and area for you and let them crack on!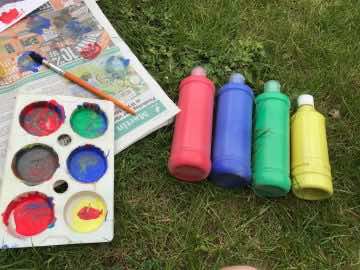 What else can you do?
Noah started to get a bit carried away with painting his body so I suggested he paint the fences and the walls (WITH WATER!!!) for a change. He loves doing this. As it was so warm, it dried really quickly, and we talked a bit about the science behind that (I never miss an opportunity, ha!) This activity is great for his gross motor skills and working those arm muscles. We also painted shapes and patterns so I was able to sneak some maths in there without him even noticing!
This lovely sunshine lends itself so perfectly to so many messy activities! Playdoh, crafts, cutting and sticking, clay modelling.. all of these things make kids sooo happy but can drive many parents mad because of the mess they create! Even though I'm a messy play lover and enthusiast, I'm not immune from the stresses and anxieties of playdoh plus carpet! Take it all outside and let them be as messy as they like instead! The sunshine makes everyone happier and there is no sweeping required. Perfect.
To finish off our spontaneous little outdoor session he then sat in a bucket of warm water for 10 mins to get off all the paint whilst I bunged all the paper in the recycling bag and rinsed the brushes and paint tray with some soapy water. Perfect little painting activity 🙂
Enjoy! And if your kid loves to paint themselves too, I cannot recommend a flexi-tub as an outside bath tub highly enough! Comes in handy for storing the kids outside garden toys too! 🙂
Holly, LL Southport xx