Basingstoke,Blog
07/10/2018
One of the favourite activities at my Little Learners classes is painting which is great for mark making. I've had a little think and put together a few activities that I've tried out in classes over the past few months. Painting can let your little one's imagination go wild, lets them experiment and best of all get very messy. For all the activities listed below you will need paint and paper and then I've added other resources you will need. Large rolls of paper (wallpaper scraps) or large pieces of paper are great to use.
Activity 1: Printing using cars and mega blocks. (make straight lines and circles) 
(cars, mega blocks)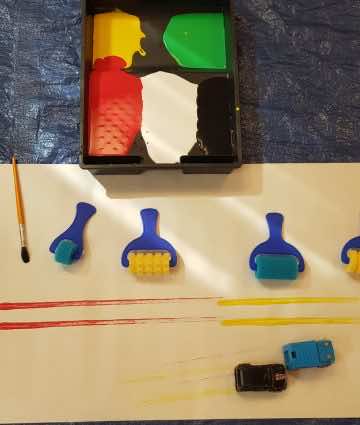 A fun activity using mega blocks and cars. Simply dip the mega blocks or roll the cars in paint to create circles and straight lines. You could vary this to your child's interest (eg: trains, Lego, trucks).
Activity 2: Rolling Pins (fab for Lionel and Swirlo weeks)
(rolling pins, bubble wrap, string, brushes)
This is a great activity that can be adapted. All you need is a rolling pin, bubble wrap and a bit of tape to secure the bubble wrap. Note: do ensure the bubbles are on the outside. Paint the bubble wrap and roll! You can vary this by using narrower strips of bubble wrap or even string. We tried string at one class and it worked really well. It created lots of straight lines.
Activity 3: hand and foot prints
(hands and feet!)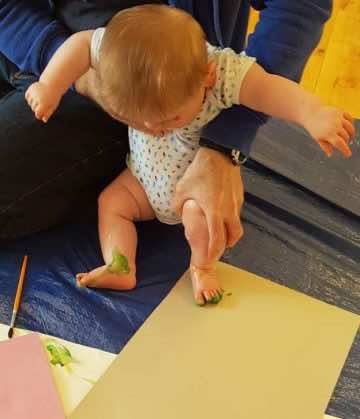 A great activity that involves mess. Either press your hand or foot into the paint tray or paint them using a brush. Many of my little learners (especially the younger ones) do this and then take their prints home has a keep sake. Note: foot prints are easier to do on babies than hand prints. I did this with my own children and printed their foot prints on small canvases.
Activity 4: Zig zags and crosses (fab for Ziggy week)
(masking tape, brush)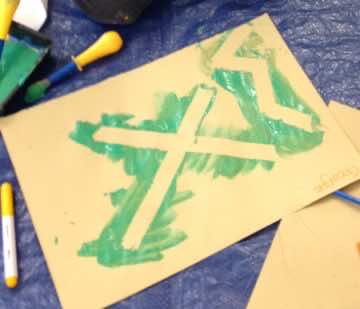 Stick some masking tape onto your paper. You could make crosses, zig zags or straight lines. Then use a paint brush or roller and paint over the masking tape. You could use different colours. Carefully peel off the masking tape and leave it to dry. A simple way activity which is very effective.
Activity 5: Sponges (fab for rainbows – Archie week)
(sponges)
I loved this activity as it created beautiful rainbows. Use a sponge and paint stripes of colours. Then place it face down onto the paper and make an arch shape to make a colourful rainbow.
These activities are ones that you can do at home too so give them a go and let me know what you think. Would love to see any photos and please add your own ideas too. Have you used paint with other resources? what works well? (or even not so well)!
I hope this blog has given you a few ideas and tips.
Have fun, get messy and spend time being creative.
Lene
Little Learners Basingstoke