Blog
14/12/2021
We've absolutely LOVED seeing how much our customers have been enjoying our Little Learners Christmas classes! Our wonderful franchisees never fail to impress with their amazing activity ideas and festive messy play trays, they've gone down a treat with the little ones! In this blog we'll be taking a look at some of our favourite Christmas tuff trays of 2021!
Candy Cane Christmas!
We are OBSESSED with this stunning candy cane tray. It was made using one of our favourite ingredients; coloured rice! Coloured rice is so easy to shape (great for practicing mark making) and can be tailored to make the most vibrant colours like the classic red you see in this picture, and how amazing does the red and white mixed together look?? Dry rice also makes amazing sounds, the cups provided are for the collecting and pouring of the rice, very satisfying to watch!
You must be crackers!!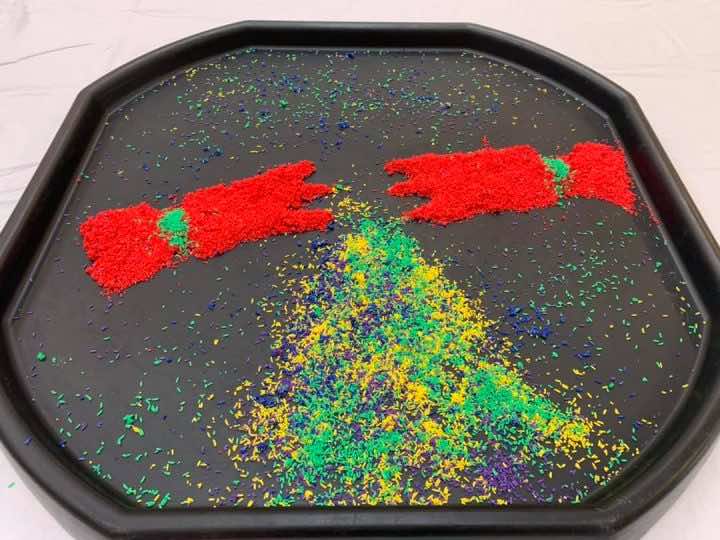 Another coloured rice instalment; this beautiful Christmas cracker tray is so vibrant and animated! Just look at that bright red and the amazing effect the different colours meshed together have to mimic confetti! The perfect messy play tray for both physical and visual stimulation!
Winter Wonderland!
We are in awe over this edible winter wonderland tray! This tray is great as it's made entirely out of edible items you can find in the household/easily find in supermarkets. This magical scene is made up of gingerbread, crushed biscuits, powdered sugar snow and all sorts of sweet treats! If only it was normal sized 😉
Christmas Pasta and present 😉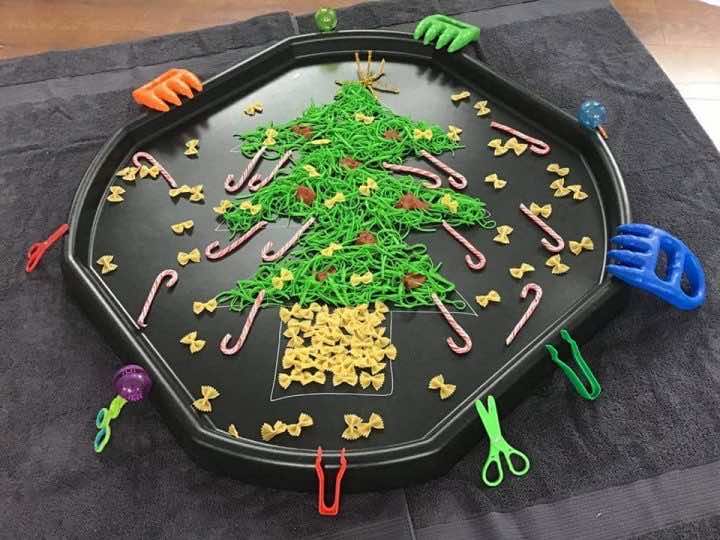 Who knew dry pasta could make such an amazing piece of art?? This Christmas tuff tray looks amazing and is made using easy to find household items! We absolutely LOVE using Farfalle pasta in our trays as they are such an interesting shape and texture. Also, the use of coloured spaghetti is perfect for encouraging the little ones to form their own shapes with an unconventional material. Overall, this tray is so much fun to look at and play with!
Dancer, Prancer…Snap, Crackle and Pop!
The PERFECT sensory tool that's probably sat in your cupboard right now; this fabulous Reindeer tray is made entirely out of Coco Pops! I can imagine all the fun had in class with the unique texture and sounds of this dry cereal, it's another great way to encourage mark making due it to being easily sculpted (just look at how amazing the reindeer picture came out!). Let your little ones explore to their hearts content with this taste safe tray!
We hope you enjoyed hearing all about our top Christmas Tuff Trays of 2021! If you haven't already, why not book a Christmas class with us to discover all the ways we can make learning fun!
Messy Play Classes | Book a Messy Play Class | Little Learners (littlelearnersuk.com)