Blog,Gateshead West
23/03/2017
It's Mother's Day this Sunday (a little reminder for those who may have forgot) and here's quick, easy and extremely gorgeous little craft that you can do at home with our Mothers Day Craft Celery Roses.
What you will need for Mothers Day Craft Celery Roses:
Some paint (we have used a paper plate to put this on)
Card
Paintbrushes
Celery
Tape
Knife
Cut the top off the celery to remove the leafy part and then wrap some tape around the middle and another bit closer to the top.
With a knife cut the celery in half just below the tape in the middle. This will give you two separate pieces which you can use as stampers.
Using a paint brush cover the bottom of one of the celery pieces (you can just dunk the celery into a tray of paint but I find painting an even layer gives a better result).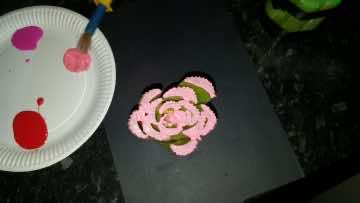 Once covered, turn the stamper upside down onto your piece of card in the position you would like your rose head to be and push down slightly.
Repeat this as many times as you like until you have the amount of roses required. You can use as many colours as you like, using both pieces of celery.
Once you have your roses on the card you can use another paintbrush to draw in a bit more detail like grass, stems and leaves. We also added a little 'thumb' butterfly using thumb prints as wings.
And voila! You have the perfect Mother's Day present that takes 2 minutes, is extremely fun and your little one can get a bit messy while they do it 🙂 craft presents are the best presents.
Hope you all have a fabulous Mother's Day! Let us see all your little ones Mother's Day crafts by sharing them with #LittleLearners