Blog
15/11/2017
Looking for a pre-school class that encourages your babies and toddlers to have fun and learn through play?
Little Learners is an award-winning pre-school company with an innovative approach – "The Mark Makers" – to teaching babies, toddlers and pre-schoolers. The focus of this approach is to teach pre-schoolers early writing skills using the messy play concept.

Designed by a qualified teacher, exclusively for pre-schoolers aged 5 and under, Little Learners messy play classes have been greatly welcomed by parents and children alike. The pre-school classes with their dual messy play and mark making concept have received a 5-star rating and were voted Best New Children's Activity by parents & carers across the UK.
What is 

Educational 

Messy Play?
Messy play is a fantastic tool to initiate children into "mark making". Little Learners focuses on the 4 principal marks that form the basis for all letters, numbers, patterns and shapes. These key marks are represented by four 'Mark Maker' characters depicting a curve, zig-zag, circle/swirl and a straight line.

In messy play classes, babies and toddlers are encouraged to make their "marks" in a messy way – with paint, play dough, foam, sand, craft materials and messy-play trays. Children are given the freedom to use their hands, feet, fingers, and toes to make their marks.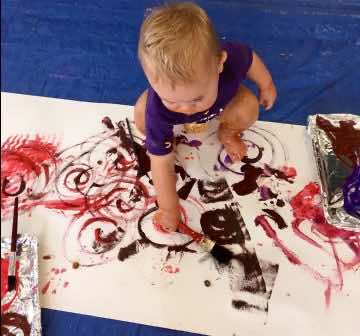 Little Learners has messy play classes designed exclusively for babies, toddlers and pre-schoolers that are not only fun and educational, but also extremely safe for your little ones. 
Benefits of 

Educational 

Messy Play
• 
Use 
of hands, feet, 
fingers
,
 and toes helps develop motor skills and strengthens core muscle
s
• 
Use of different 
educational messy play
 materials such as chalk, play 
dough 
and paint brushes motivates kids to explore new learning media. 
The c
reativity
 of children is stimulated as they explore different ways of using the learning tools, making marks and discovering meanings for the marks
• Children get to know new textures, patterns and tastes, which encourages exploration and helps the weaning process in babies
• 
Children learn to involve their different senses of 
vision
, touch, smell, taste and sound through 
messy play class activities
. This sensory involvement helps develop their 
cognitive and language abilities
• Activities assist hand-eye coordination and motor skill development, enabling kids to get a firm grip on a pencil and paving the way to writing skills
• Develops social skills in babies and toddlers as they learn to get along with others in the messy play class
• 
Activities lay the 
foundation
 for concepts like reasoning, problem-solving and identification of numbers, 
shapes
, 
and patterns.
Little Learners offers messy-play sessions in the form of parties, events and work in schools too, in addition to our usual weekly classes. Book a messy play class with Little Learners today!