Blog,Manchester North
26/03/2020
Hi all, here are some ideas of very simple mark making activities that you could do with your little learners whilst we have this precious (and very strange!) period of time at home in isolation!
Water on the wall
This activity is an absolute classic for outdoor play in the EYFS settings. Give your little learner a paint brush and a container of water. They can dip their brush in the water and use this to mark make on the walls outside! Just on to brick or a fence works fine! A lovely idea, especially in this weather we are having!
'Magic pad'
This is a product my children have enjoyed for mark making- it's a 'Magic Pad' you can buy on JML/QVC or Amazon have very similar things. You slide a picture in and colour it on the screen, then slide it out and it appears on a black background, you can alter the light colours that glow through! There's lots of images to slide in and even some puzzles and maths!! They can be a bit 'fiddly' and they take batteries but they're something different you can use over and over again.
Cardboard boxes
Oh, the possibilities are endless! For some reason little ones just LOVE a cardboard box, don't they?! (Great for reusing/recycling!) Give them a cardboard box to transform in to whatever their little imaginations decide. Maybe it's a spaceship that needs buttons and numbers writing on it? Maybe it's a bath that needs bubbles drawing all along the inside? Mark making on the outside of the box and sitting inside to decorate in there is potentially hours of fun! Maybe they will add to it and change it each day. Another good one for the garden.
Pebbles
Using permanent markers, your little ones can decorate pebbles; with writing, pictures or patterns. This is intricate work; it will challenge their precision with pen control and work their little hand muscles! When the pebbles are all decorated, you could hide them around the garden and have a hunt for them! Or place them around as garden decorations.
Tracing/overwriting
If you simply write in highlighter on paper, your child can follow with their pen over the top. If they are not yet at the stage of forming letters, then draw marks- straight lines, arches, swirls and zigzags for them to trace over (see image). This is practising their pen control and making them more familiar with the marks they are following.
Wallpaper
Bet you've got an old roll of wallpaper somewhere? Roll it out, underside up and weigh down the corners- indoors or outdoors. Your little one can mark make on there freely! They could use paint, pens…anything really! The paintsticks we have on the LL shop online, are mess free and gorgeous to use (see image).
https://littlelearnersuk.com/shop/
Spades in the sand
Before this lockdown, we ventured to the coast, for some fresh air and exercise on a quiet, flat beach. Maybe you have a sandpit or live in walking distance to a beach. Using spades, rakes, sticks and even scooter wheels, you can make marks in the sand! I challenged my 3 year old to scoot about and make her initial letter using the wheels in the sand and my 6 year old did some spelling work. Huge scale pictures and words in the sand are fun and a lovely photo opportunity.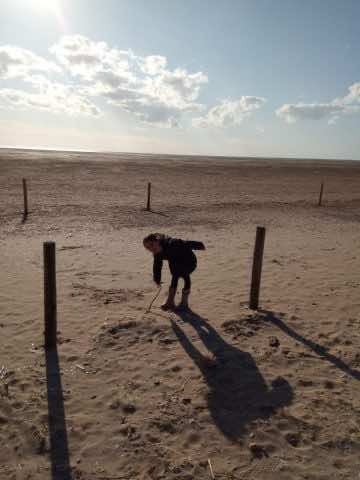 Mud
Kiddies love mud, right? Out on your daily exercise, or maybe in your own garden, they could use sticks to mark make in the mud. They could write their name in the mud and more!
Letter writing
As our little ones won't see their friends for a while, we have been writing some messages to post to them! Giving writing a purpose, like to communicate with a friend, encourages children to pick up a pencil and mark make! Doing this activity my 3 year old made marks across the page and told me they say "I love you Charlie. Hope you being good!" She enjoyed putting it in an envelope and writing 'the address' on. **If you are worried about posting/receiving post due to Coronavirus, you could take a photo of the completed letter and send the image to the parent of the child/recipient. You could just pretend to officially post it for the time being**
You could make your own postbox to use! You could write to neighbours, friends, family… enjoy!
I hope you find my ideas useful for Mark Making in isolation. Enjoy this time at home with your little learner.
Like our Facebook page – while our classes are postponed, we are going live each weekday at 10am on social media. We will be showcasing a different fun activity for your little learner to try at home!
Jen – LL Manchester North