Blog,Gateshead West
19/04/2020
Here's a little step by step to help you make your own Forky from Disney Pixar Toy Story 4.
What you need to make your own Forky:
Plastic spork or you could use a plastic fork or spoon
Play dough
Craft lollipop stick (Help needed – cut each end off using scissors to about 5cm)
Plastic googley eyes
Pipe cleaner
PVA glue
Marker pens
To start making your very own Forky, use your glue to stick your eyes onto the back of the spork. If you do not have a spork, you could design your own Forky using a plastic fork or even a spoon. Let your little ones be creative!
Once you have both eyes glued on leave them to the side to dry. In the meantime, get your playdough and shape it into a small pyramid. We used some old playdough for this, but if you do not have any lying around you could make our super fast 5 minute microwave play dough.
Take your cut lollipop sticks and using pens decorate them. They are going to be Forky's legs by pushing the straight edge into the play dough. In Toy Story 4, Forky has a rainbow on one foot so we drew one using our pens. And also in Toy Story tradition, we put our name on the bottom of the other stick/foot. You could colour in the whole stick, draw a picture, see what your little one creates.
Forky's eyes should be dry now, using your pens you can draw on some facial features. We added some eye brows and a mouth! With the pip cleaner, wrap it around the handle of the spork. Make the arms even each side and twist to secure. Bend the end of the pipe cleaners to shape into fingers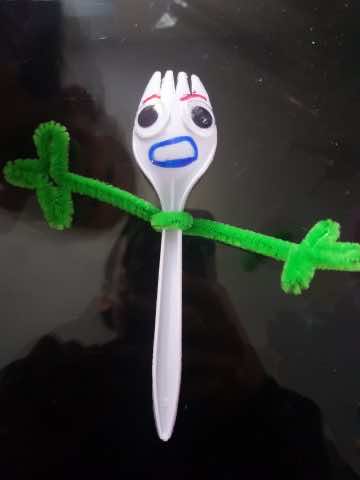 Once the glue and pen have dried, push the handle of the spork into the middle of the play dough. But make sure you slightly squeeze and mould the dough around to make it will definitely stand up.
Ta-Da!
And there you have it! Your very own Forky! My girls absolutely loved making these, especially customising them! And check out Forky's friend Frokette, she has lovely eyelashes and some luscious yellow hair 😀
Antonia – Little Learners Gateshead West