Blog,North Tyneside
22/12/2020
Here is how I managed to end up making my own Christmas Wrapping paper! When I asked my 4 year old what she would like to get for her Daddy for Christmas I thought she might say socks or sweeties. I said we could go to the shop and she could choose a few little bits for him. Her response was not what I expected. She said "mammy can we make our own wrapping paper for him?" Obviously I was having a "fun mam" moment and I said of course! It escalated quite quickly and next thing I know she's going to decorate all the wrapping paper for our presents this year!
I usually use brown paper anyway so it didn't seem too much to plan. – Then I seen Mrs Hinch has used brown paper on presents! Que a national shortage on brown wrapping/parcel paper. It's took me weeks to get my hands on any and the 4y.o wouldn't let me use any other paper.
So this weekend we finally made our paper and I have to say I'm glad she suggested it because it looks really cool and kept her busy all weekend.
Here's what we used if you want to have a go yourself:
Brown Parcel/wrapping paper
Paint and paintbrushes
Playdough cutters and printing sponges
Star stickers
Glitter and Glue
Pens or paint sticks
Childs hands and feet/Your own feet is you really fancy it? (Please take care as paint on the feet is slippy)
I rolled the paper out on the floor and first of all we printed her feet in brown paint. This bit we done together I painted, she stepped around. (She has a really high arch so it we never get a full print) Then she used her finger to dab on red paint for Rudolph's nose. It didn't take long to dry and while she was dabbing I added the antlers. Once she finished the noses she got the pen and drew the eyes on her reindeers. It looked amazing!
While that dried she used her pens and drew Santa, his sleigh and reindeer with our house. She wanted me to use it as a wrapping paper too but I've actually stuck it up because I love it so much! The detail she has included really surprised me.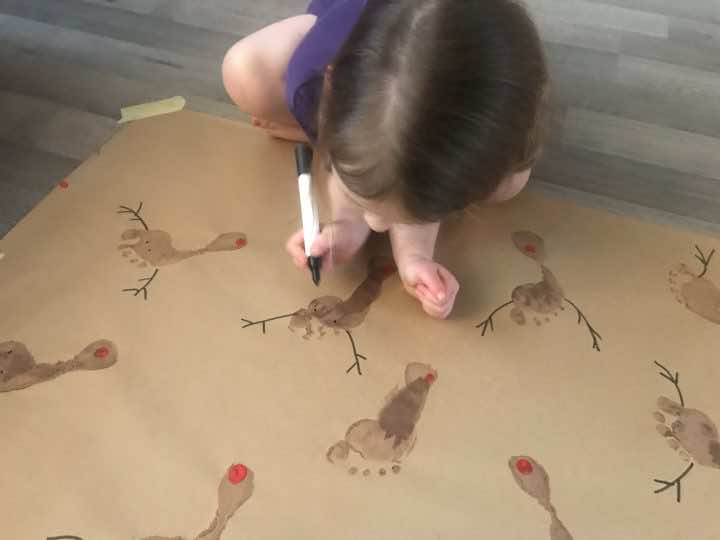 Next we made Christmas trees together painting her feet and pressing them together from the the heels to print. This was a lot more adult led. She was able to do the painting but I had to help with her feet placing. While the trees dried she added some brown paint for the trunks. We had tea while they dried and then came back to them. Once they were dry we decorated the trees together with pens and put star stickers on top.
Our final paper design we done the next day. We used some Christmas shape playdough/cookie cutters to print paint and some Christmas shaped paint printers. She also used her hands too.
This simple activity has had quite the effective
If you Make your own Christmas Wrapping paper tag us and let us see!

Toni