Blog
30/01/2019
Lunar Tuff Tray Mat – Product Review
I was pleasantly surprised with the durability of this lunar tuff tray mat. I used the product at 4 different messy play classes over the course of a week with both wet and dry resources and the mat still looks like new.
The print quality is exceptional and the lunar scene provokes conversations with even the youngest members of the class about the world around them. This product could easily be used to support learning in many key areas of the curriculum including maths and numeracy, understanding the world around them, and provides an excellent resource for small world play.
During my sessions I paired this product with a series of fine and gross motor skill activities. I used moon dough (8 cups of flour, 1 cup of vegetable oil, coloured sand) to simulate a lunar environment and invited the children to make marks using small world cars (or moon buggies as they became known!). It was very encouraging to watch the older children talking about the moon which lead to discussions about space, and the younger children were able to practice their fine and gross motor skills by moving the moon dough to discover the picture underneath.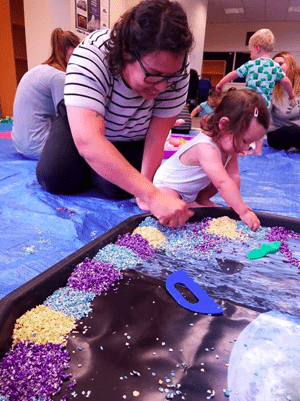 This is an excellent toy which can be used creatively by a wide age range and supports key areas of the early years curriculum.
Head over to Early Years Resources if you would like to purchase one of their fantastic tuff spot mats! > https://www.earlyyearsresources.co.uk/