Blog,Gateshead West
03/05/2018
Little Learners is flying away with Children's Activities Week this week, Monday 30th April to Friday 4th May 2018! With lots of our Little Learners getting stuck into some flying themed messy play & mark making to raise money for 2 fabulous causes.
Children's Activities Week has come to Little Learners and to the UK, with 1000's of children across the UK dressing up in their flying-themed costumes. Children's Activities Week is a celebration of the hundreds of thousands of activities, clubs and classes benefiting millions of parents and children every day across the UK.
Activities, clubs and classes are a lot of fun for all the family. But did you know they also offer many long term health, wellbeing, educational and social benefits too?
Positive impact on behaviour

Improved cognitive and social development

Increased earnings in later life!

Higher exam grades, ambition and curiosity
All funds raised during CAW will be shared between Caudwell Children (80%) to provide life changing services for disabled children. Also the Children's Activities Association (20%) to help give more children access to the many wonderful activities across the UK.

How is Little Learners involved?
Little Learners is doing their part in this amazing event, with lots of flying themed classes. From superheroes to unicorns, butterflies to aeroplanes. We love making our messy play classes to a theme and so do our Little Learners. And who doesn't love dressing up!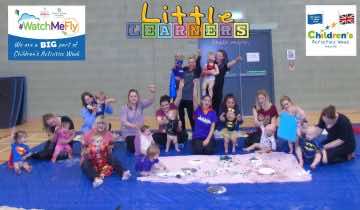 On Monday 30th April, we preformed the 'Copy Sid' song at some of our classes as we joined in with Sid Sloane's World Record attempt. Thousands of other activity providers joined in all over the UK at the same time, we cannot wait to hear how we all did. We jumped up, touched the ground, pulled a funny face, laughed out loud and got your heart pumping. All to raise vital funds for Caudwell Children and the Children's Activities Association. I say a perfect way to get warmed up for mark making!
The Cbeebies presenter himself will be joining Little Learners Bromley on Friday 4th April. He is coming along to see what we are all about and to make his mark! It's all part of Sid's Tour which is seeing Sid start in Manchester on Monday and travel to London over the week. All a while on a special Limo-Bike.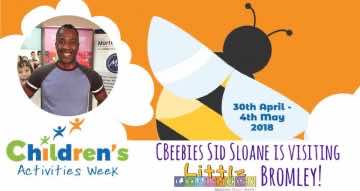 You can donate directly to Children's Activities Week at http://childrensactivitiesweek.org/parents/